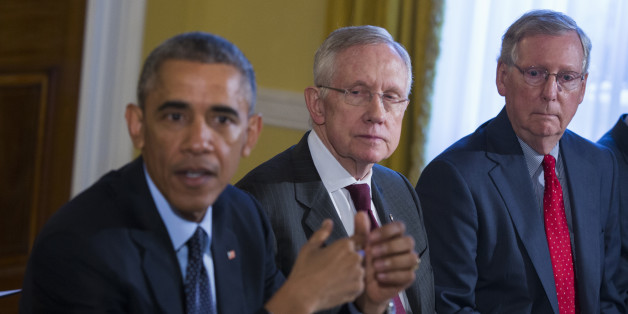 Gallup's polling finds Democrats' party image sinking following their midterm loss. Another survey sees top Republicans regaining support among the GOP base. And Americans have conflicting views about online privacy. This is HuffPollster for Thursday, November 13, 2014.
DEMOCRATS' RATINGS DROP - Andrew Dugan: "After the midterm elections that saw the Democratic Party suffer significant losses in Congress, a record-low 36% of Americans say they have a favorable opinion of the party, down six percentage points from before the elections. The Republican Party's favorable rating, at 42%, is essentially unchanged from 40%. This marks the first time since September 2011 that the Republican Party has had a higher favorability rating than the Democratic Party....Across party groups, the Republican Party's image held steady from Gallup's last update in September. But support for the Democratic Party dropped among independents and among Democrats themselves. Currently, 81% of self-identified Democrats have a favorable view of their party, down from 88% in September and 95% shortly after the 2012 election. Independents' ratings of the Democratic Party, at 25%, are down 10 points from September." [Gallup]
...WHILE HOUSE GOP LEADERS SEE THEIR IMAGE IMPROVE - Kathy Frankovic: "It's good to win. Although the GOP Congressional leadership continues to receive negative ratings from the American public, the latest Economist/YouGov Poll shows some gains for the House Speaker and the soon-to-be Senate Majority leader in public estimation. House Speaker John Boehner's favorable rating has jumped eight points, while the current Senate Minority Leader Mitch McConnell's favorable assessment has risen by ten. That jump in favorability wasn't across the board. Prior to the election, the country's top Republicans were as likely to be disliked as liked by members of their own party. But success in the election breeds popularity – among Republicans. While Democrats and independents changed hardly at all in their assessment of the GOP leaders, Republican favorability rose 24 points for Boehner and 18 points for McConnell." [YouGov]
AMERICANS HAVE SERIOUS CONCERNS ABOUT PRIVACY - Pew Research: "More than a year after contractor Edward Snowden leaked documents about widespread government surveillance by the NSA, the cascade of news stories about the revelations continue to register widely among the public….Perhaps most striking is Americans' lack of confidence that they have control over their personal information. That pervasive concern applies to everyday communications channels and to the collectors of their information—both in the government and in corporations….91% of adults in the survey 'agree' or 'strongly agree' that consumers have lost control over how personal information is collected and used by companies. 88% of adults 'agree' or 'strongly agree' that it would be very difficult to remove inaccurate information about them online. 80% of those who use social networking sites say they are concerned about third parties like advertisers or businesses accessing the data they share on these sites. [Pew]
But that doesn't stop them from using online services - Claire Cain Miller: "Americans for now seem to grudgingly accept that these are the trade-offs of living in the digital age — or else they fear that it is too late to do anything about it….One reason is that once people are invested in a service — if they have all their social contacts on Facebook or years of email on Gmail, for instance — they have a hard time giving it up….55 percent of people say they are willing to share information about themselves with web companies in order to use their services free, and 36 percent say they appreciate that these services are more efficient because they have access to this information." [NYT]
HUFFPOLLSTER VIA EMAIL! - You can receive this daily update every weekday morning via email! Just click here, enter your email address, and and click "sign up." That's all there is to it (and you can unsubscribe anytime).
THURSDAY'S 'OUTLIERS' - Links to the best of news at the intersection of polling, politics and political data:
-Frank Newport weighs in on how to interpret a low-turnout election. [Gallup]
-Kyle Kondik and Geoffrey Skelley offer 14 quick takes on the midterms. [Sabato's Crystal Ball]
-Aaron Blake says urban voters failed Democrats. [WashPost]
-Nathan Gonzales sees no guarantee that Democrats will rebound in 2016. [Roll Call]
-Philip Bump says to keep an eye on the 2016 primary frontrunners. [WashPost]
-David Perdue's pollster never showed him ahead by less than 5 points. [Roll Call]
-A poll finds bipartisan support for net neutrality. [WashPost]
-Andrew Gelman examines how Republican and Democratic states switched places. [WashPost]
-96 percent of the advertising in the Louisiana runoff supports Bill Cassidy. [Bloomberg]
BEFORE YOU GO
PHOTO GALLERY
Elizabeth Warren