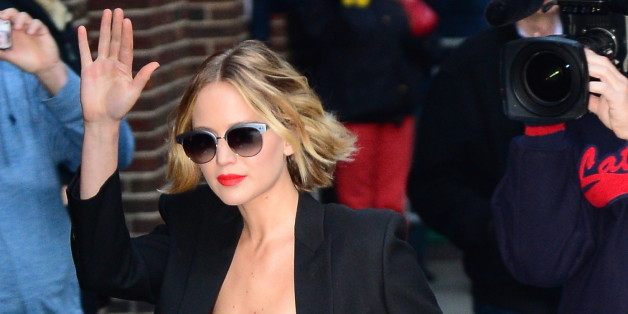 Last September, The Hollywood Reporter revealed Jennifer Lawrence spent one day on the set of "Dumb and Dumber To" in Atlanta to film a cameo appearance in the comedy. (Lawrence was already near Atlanta working on "The Hunger Games: Mockingjay" films.) As co-director Peter Farrelly told Entertainment Weekly one month later, Lawrence was a huge fan of the first "Dumb and Dumber" ("She does know every line by the way"), and had agreed to the cameo one night after attending an Empire of the Sun concert with Farrelly, his brother Bobby and star Jeff Daniels.
"When we woke up the next morning, I figured I was going to get a phone call saying, 'Look, I'm sorry, I can't do this. I was out of my mind last night,'" Peter Farrelly said. "But we did get that call and it was like, 'This is awesome! I can't wait to do this!'"
At the time, Farrelly was disappointed news of the cameo had leaked out, but didn't think it would matter all that much. "She's still in it and we had a ball and it's hard to feel bad about the whole thing," he told EW.
But cut to 13 months later, and Lawrence's "Dumb and Dumber To" scene is nowhere to be found. What happened? According to a report from THR, Lawrence axed the cameo herself (a right she apparently had put into her contract for the film). Peter Farelly has a different story. He told CinemaBlend that Lawrence's cameo was never filmed, even after that anecdote last year about Empire of the Sun and early-morning phone calls.
"We talked about trying to work it in, but we weren't able to do it," Farrelly said.
Lawrence's reps denied the claim that Lawrence had the cameo cut to THR. HuffPost Entertainment contacted them to clarify whether or not Lawrence's scene was ever even filmed. This post will be updated if and when they respond.
See "Dumb and Dumber To," without Jennifer Lawrence but with Mama June, in theaters on Friday.
BEFORE YOU GO
PHOTO GALLERY
Jennifer Lawrence's Goofiest Pictures