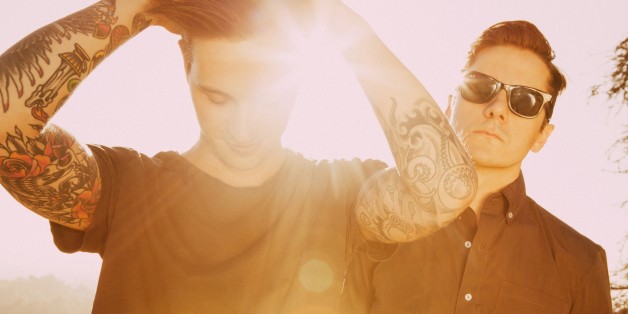 Once winding down after years in the music industry, singer Jarrod Gorbel and guitarist Blake Sennett are back on the map as alternative rock duo Night Terrors of 1927 with a major label deal, a tour supporting indie-pop group Capital Cities and a single with Canadian pop duo Tegan & Sara.
The two sat down with The Huffington Post at New York City's Webster Hall to discuss their fast-moving new project.
Gorbel and Sennett, who first met in 2010 through mutual friends, both emerged from numerous other endeavors: Gorbel fronted the alternative rock band The Honorary Title from 2002 through 2009, and Sennett played lead guitar in indie rock band Rilo Kiley from 1998 through 2011. The two reconnected in 2012 when Gorbel moved from New York to Los Angeles.
"I was sort of retired from music," Sennett said, "Doing drywall at my house somewhere in Echo Park. And somewhere else in Silver Lake, Jarrod Gorbel had just moved ... He called me and asked if I wanted to write a song and I said yes."
They began writing music together but were hesitant to form a band -- at first.
"I think we'd both come from projects where we thought, 'OK, this will be the last band I'll be in,'" Sennett said. "I think it took us a long time to get our minds around the idea of actually getting 'married.' That's what it's like. When you're in a band with someone, it's a really intense relationship. We didn't want to go in without really considering it."
(Story continues below)

Well, their collaboration is resonating.
When the duo released their anthemic "Dust & Bones" on SoundCloud in 2013, a record deal with Atlantic and a tour quickly followed, as did a special collaboration with their friends Tegan & Sara. The single, a danceable track called "When You Were Mine," was recently deemed a "gorgeous piece of work" by music website Stereogum.
"We didn't intend it to be this duet, but then conceptually, we thought it would be cool [with Tegan & Sara] -- at first stylistically and then as fans and friends," Gorbel explained.
Sennett couldn't say enough about the talented sisters.
"[Tegan and Sara] have such a cool, smoky tone [to their voices]," he adds. "They are such an example of people who've always been kind, and how kindness and generosity can get you places."
The guys of Night Terrors of 1927 are going places themselves. The duo is set to release their first full-length album in early 2015, and they have an online fan base partly to thank for getting them off the ground.
Speaking about the prominence of platforms like Facebook and Twitter in today's music industry, Gorbel said: "Now, it's all social networking every second of the day. You need to be feeding that world that listens to your music constantly."
He credits social media with fast-tracking the band's success and says the effort has really paid off.
"It's been scary but also cool using those shortcuts and seeing the advantage of it," he said.
The duo's most recent EP, "Anything To Anyone," is out now on Atlantic, and their first full-length album will be released in early 2015.
BEFORE YOU GO
PHOTO GALLERY
Artists To Know In 2014