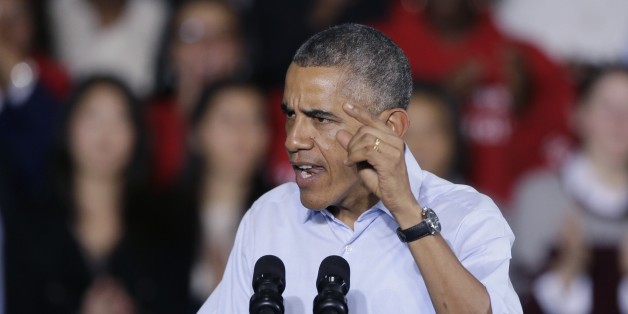 WASHINGTON -- Willie Sutton supposedly said he robbed banks because that's where the money is. As the Obama administration tries to firm up the health care law, officials are going deep into Texas because, they argue, that's where the uninsured are.
A bold play in the second most-populous state is critical for the administration to make another big dent in the ranks of those without health care coverage. With few Texas leaders supporting the health care law, the state's uninsured rate barely budged during the first open enrollment period. By the middle of 2014, it stood at 24 percent -- the worst in the country.
But Texas isn't just an inviting playing field for health care advocates. It's also an opportunity to send a powerful political message that a law much maligned by Republicans could succeed in a state run by them. With these high stakes, Obama administration officials plan heavy outreach.
The primary focus will be on the state's biggest cities: Dallas, Fort Worth, Houston and San Antonio. Federal officials have teamed up with mayors and local officials. They've also struck alliances with businesses. The grocery chain H-E-B, for instance, has agreed to host navigators in its stores on weekends to expand the number of people exposed to the insurance market.
"The map looks very similar," said Marlon Marshall, who as special assistant to the president and principal deputy director of public engagement is tasked with Obamacare outreach. "The demographics look very similar. But we are just taking what we learned from last year and going deeper on both."
The administration's game plan for Texas is a microcosm of its approach to the second year of Obamacare enrollment. Unlike last year, when officials were playing catch-up following the disastrous launch of healthcare.gov, this year the White House has the luxury of refining a strategy getting individuals re-enrolled and signing up the uninsured.
In an interview with the Huffington Post, Marshall outlined a plan that's best described as health care micro-targeting. Beyond figuring out where the uninsured live and knocking on their doors, officials will target folks where they shop, pray, read and congregate. They have pinpointed the most persuasive messages, elevated the most convincing messengers, and optimized their timing.
Some reports, for instance, have noted how little flash has accompanied the start of the second enrollment period. But that, officials said, is by design. They want to grab headlines when people are most likely to sign up: Opening day, the first two weeks in December (when people get coverage so they have it at the start of 2015), and before the enrollment period ends in mid-February.
President Barack Obama will kick off open enrollment in his weekly radio address on Saturday, an aide said.
The micro-targeting is much more than geographic. The administration also plans to enhance its outreach to Hispanic populations, where the uninsured rate remains high. Last year, 10 percent of the administration's ad budget focused on Latino outreach. This year, it's around 30 percent.
The advertising will be fine-tuned. Half of the paid media budget will go to the digital media effort during the second open enrollment period. Last year, digital amounted to roughly a quarter of the budget, and it helped start 4 million accounts on healthcare.gov.
"Our television is really focused on the broad marketplace," said Lori Lodes, director of the office of communications at the Center for Medicare and Medicaid Services. "Our digital is going to be much more targeted to specific communities."
In messaging, more attention will be given to the affordability of insurance, the timeliness of purchasing it, and the availability of in-person assistance. Simple poster-plastering will be used to help people find navigators to walk them through the website, something that officials said they learned was critical last year. Absent from the list of message points is the penalty for people who don't get coverage. Though that penalty will increase in 2015, officials don't see it a motivating issue. A recent Gallup poll bears that out, showing that while 70 percent of uninsured are aware of the mandate penalty, just 55 percent say they plan on getting coverage.
"We know that the messages that really moved people to get enrolled was one of affordability, that there is financial help, and just to help people understand that it was attainable for them. The second was the deadlines," said Lodes. "So most of what people will see from us will really be focusing in on those two main messages."
A year of experience in recruiting people to buy insurance has certainly given the administration a better understanding of what constitutes effective outreach. But it also has raised expectations for success. After all, the administration managed to hit its enrollment goals last year despite the nearly two-month delay caused by the dysfunctional website.
In an effort that seemed designed to tamp down this year's expectations, the Department of Health and Human Services last week lowered its projections for enrollment. It now expects from 9 million to 9.9 million individuals to be enrolled in ACA-authorized health insurance plans by the end of 2015 -- 3 million to 4 million fewer than estimated by the Congressional Budget Office.
Part of the explanation is that more people are expected to be on an employer's insurance plans. Administration officials said they didn't think uncertainty over the law's political future -- either because of Republican control of the Senate or the Supreme Court agreeing to hear a challenge to the law's tax subsidies -- would keep customers away.
"People put their health care over politics," said a senior administration official. "Hundreds of millions of dollars have been spent to take down this law. And 7.1 million people came out and got health care insurance. ... At the end of the day, people are going to get their health care over whatever political belief they hold."
That certainly is the hope for Texas. But it's not just Republican-run areas where the administration is focusing. Officials said they also are exploring regions like northern Virginia, which have growing minority populations. Politico reported on Thursday, that cabinet officials will head to Missouri, Philadelphia and the Ohio cities of Cleveland, Columbus and Cincinnati next week.
Allies, meanwhile, will be amplifying efforts in states with successful enrollments last year.
Peter Lee, the executive director of Covered California, said a conference call organized by health care advocates that his group plans more than 1,000 enrollment events, and is working with national immigration organizations to reach young Latinos who may be hesitant to sign up because they have family members who are undocumented.
Carrie Banahan, executive director at the Office of the Kentucky Health Benefit Exchange, or Kynect, said on the same call that officials had increased call center representatives from 125 to 300. They produced a new mobile app for Kynect and this week opened a store at Fayette Mall in Lexington. Meanwhile, in New York, the Health Benefit Exchange has hired more call center workers and certified 9,000 people to help with enrollment. The state is making basic information available this year in eight additional languages.
The goal is to widely and repeatedly get word out that affordable insurance is available.
"I think every year the harder it will get," said Marshall. "For me, the challenge is the same as last year: How do you get the information out in as targeted a way as possible?"... If you have those types of impressions over and over again, then ultimately, someone is going to want to check it out."
Jeffrey Young contributed reporting.

BEFORE YOU GO
PHOTO GALLERY
States Not Expanding Medicaid