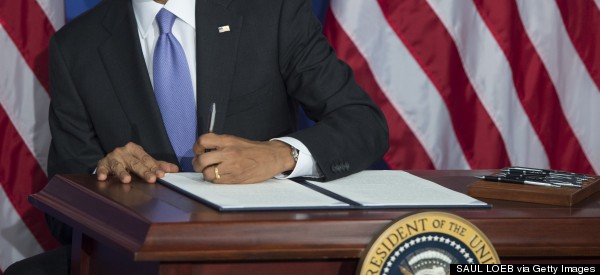 TOP STORIES
IMMIGRATION ACTION COULD COME AS EARLY AS NEXT WEEK "President Barack Obama will take action on immigration reform as early as next week, Fox News reported on Wednesday. The decision, which Fox said may be announced as soon as Nov. 21, could prevent millions of deportations under a policy known as 'deferred action.' Obama's plan would apply to both undocumented immigrants who came the U.S. as children and the undocumented parents of current U.S. citizens and residents." Some Republicans want "Congress to make a move before Mr. Obama does." [HuffPost]

NATO: RUSSIA CONTINUES UKRAINIAN ESCALATION "Russia is sending fresh convoys of troops and tanks into eastern Ukraine, NATO said, and threatening to dispatch warplanes on maneuvers over the Gulf of Mexico, flexing its military muscles in a Cold War-style escalation with the West. U.S. officials said they couldn't confirm the new incursion into Ukraine announced by the North Atlantic Treaty Organization and an international monitoring group in the region, but accused Russia of repeatedly violating the terms of a peace pact signed two months ago." [WSJ]
KEYSTONE XL PROJECT ADVANCES TO A VOTE "For the first time in the six-year fight over the controversial Keystone XL pipeline, both houses of Congress will hold a vote on the proposed project, giving each side in a Louisiana Senate election a chance to boost its candidate." [WaPo]
U.S. DETAILS REVISIONS TO INTERROGATION POLICY "The Obama administration told a United Nations panel in Geneva on Wednesday that the United States had tortured terrorism suspects after the Sept. 11 attacks but that it had since taken steps to prevent any future use of unlawful, coercive interrogation techniques." [NYT]
THE SLOW DISAPPEARANCE OF AFFORDABLE HOUSING Yuppies are always to blame. [WaPo]
GET USED TO GAS UNDER $3 According to the Energy Department, prices should stay under $3 in the upcoming year. [AP]
YOU CAN PLAY YOUTUBE WITHOUT ADS For $7.99 a month starting Monday, the YouTube Music Key service will allow you to play YouTube without ads. You can also play YouTube in the background on your mobile phone while running other applications. [WSJ]
ARIZONA DOG DEATH SAGA CONTINUES "One day in June, sheriff's investigators arrived at the home to find dozens of dogs, most of them dead. Some had been wrapped in blankets and left in front of the house. More than a dozen others had been piled in a tool shed. The dogs, investigators found, had been crammed in a poorly ventilated 9-by-12-foot room for hours on end, left panting and thirsty as temperatures climbed in the sweltering Arizona summer. They slowly died of heat exhaustion and suffocation. Since then, the stunning allegations of neglect — with a son of a United States senator as one of the accused, and a notoriously get-tough lawman with a soft spot for animals leading the investigation — have gripped Gilbert, a town about 20 miles southeast of Phoenix, and the entire area for months." [NYT]
WHAT'S BREWING
FIFA CLEARS QATAR, RUSSIA FOR WORLD CUPS "The investigation into the bidding for the 2018 and 2022 soccer World Cups found no significant evidence of corruption that would cause Russia, which will stage the 2018 tournament, or Qatar, which will do so in 2022, to lose the right to host." [NYT]
AND KIM KARDASHIAN REVEALED MORE THAN HER BACKSIDE So much for covering any of it up. Obviously NSFW. [HuffPost]
ATTENTION, FLAKES Google's new calendar function will remind you about "half-baked" plans. [HuffPost]
THIS IS WHY JENNIFER ANISTON MIGHT WIN AN OSCAR The first clip of "Cake" features the golden girl in the throes of depression and pain. [People]
THE DOWNSIDE TO BEING ALEX FROM TARGET Being famous can be hard. [NYT]
MEET THE GOOSEBUMPS ILLUSTRATOR Aka the creator of all of your childhood nightmares. [Digg]
ONE DRINK DOUBLES YOUR RISK OF LANDING IN THE ER And that's just one. [WaPo]
YOUR USPS MAIL JUST GOT SLOWER "With the U.S. Postal Service planning to shut down 82 more plants starting in January, postal worker unions and allies in Congress are pushing for a late-game moratorium on closures they say will weaken the agency and further slow down the mail. The scheduled shutdowns are part of a consolidation plan the agency put in place in 2011 to help staunch its red ink, much of it the result of pre-funding mandates instituted by Congress. The closures go hand-in-hand with the postal service's plan to save money by reducing the service standards for certain mail categories, a strategy that's divided stakeholders in the postal reform debate." [HuffPost]
ON THE BLOG
DE BLASIO: 'DON'T SOUL SEARCH' "After months of covering the midterm elections through a prism of polls and tactics, pundits will shift their focus to the defeated party's so-called season of 'soul-searching.' As a Democrat, I'm disappointed in last Tuesday's results. But as a progressive, I know my party need not search for its soul -- but rather, its backbone." [HuffPost]
BEFORE YOU GO
~ Here's how Victoria's Secret wings are made.
~ Seventy-two things better than Oprah's favorite things.
~ Anne Hathaway goes to Brooklyn and sings a bit in the trailer for "Song One."
~ This is how J.Crew comes up with its crazy fun color names.
~ Robin Wright and Ben Foster are no more.
~ Hasbro's looking into buying DreamWorks Animation.
~ Marc Anthony got married.
~ Grandma always wins Christmas.
~ Here are photos of the dramatic rescue of two window washers at One World Trade Center.
~ We finally have an "Insurgent" trailer, and Shailene Woodley continues to be a badass.
~ Bette Midler wants a "Hocus Pocus 2."
~ It's always nice when your dad can pardon you for any felony convictions you have.
~ Forget pumpkin pie: get behind these Thanksgiving cocktails.
~ And sign us up for kitten therapy.
Send tips/quips/quotes/stories/photos/events/scoops to Lauren Weber at lauren.weber@huffingtonpost.com. Follow us on Twitter @LaurenWeberHP. And like what you're reading? Sign up here to get The Morning Email delivered to you.