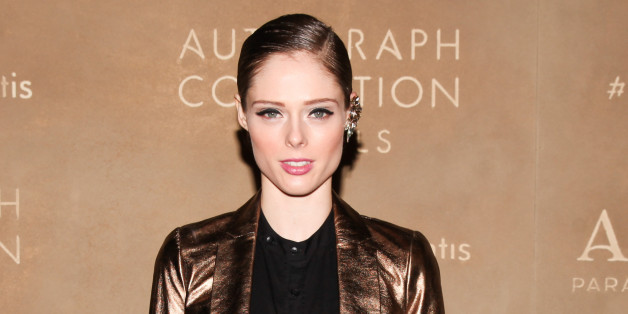 Calvin Klein sparked a debate with their new "Perfectly Fit" underwear campaign, with controversy surrounding the terminology used to describe one of their models, Myla Dalbesio.
Although Dalbesio is "plus-sized" in the fashion industry, many people are saying the size 10 model is "healthy" and represents your "average woman." The campaign images led critics to take to Twitter, Instagram and Facebook to bring up the industry's unrealistic beauty standards.
Despite the fact that Calvin Klein never referred to Dalbesio as "plus-size," the 27-year-old model told Elle in a recent interview: "It's kind of confusing because I'm a bigger girl. I'm not the biggest girl on the market, but I'm definitely bigger than all the girls [Calvin Klein] has ever worked with, so that is really intimidating." (This statement definitely didn't diminish the strong public reaction.)
The Huffington Post caught up with model Coco Rocha at the celebration of Autograph Collection's newest hotel Atlantis, Paradise Island, Bahamas at the IAC building in New York City on Thursday, and she weighed in on the always-present "plus-size" model debate.
"I didn't really hear about the Calvin Klein thing ... but I have spoken out on the whole subject of plus-size models -- I don't even like a title: petite, short, high fashion, runway. It should all just be in one genre, it's just a model," she told HuffPost. "Even when they say 'real women.' I hate that too. We're all real. When someone tells me that I'm not real, I say to them, 'Well, what about me isn't real?' I have not changed my figure. This is who I am. My mom [has this body], this is genetics. So for anyone to be called plus-size, petite or 'not real,' it just frustrates me," she said.
Rocha is currently expecting her first child -- a baby girl -- and is looking forward to posing in all her pregnant glory. (That's a real woman right there!)
"I would like to do [a pregnancy shoot]. You always wonder when you get pregnant what projects and opportunities will come in or come knocking," she said. "So there's been some fun and interesting things and we'll see what pans out."

BEFORE YOU GO
PHOTO GALLERY
Coco Rocha's Style