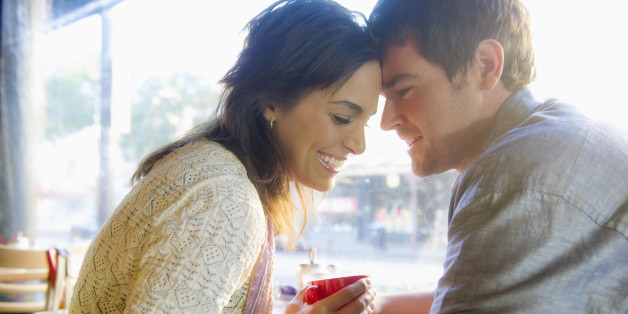 You're not alone if you're constantly weighing the pros and cons of dating again after divorce: "Am I really ready to date?" you wonder. "Are my kids ready for me to to date?" "Is my wardrobe ready to be seen on dates?"
While we understand your uncertainty, once you do get back out there, connecting with someone new is pretty damn nice. Take it from people who've been there. Below, HuffPost Divorce readers share what they appreciate most about dating after divorce.
1. "I enjoy simply having a genuine conversation with someone who's interested in what I have to say."
2. "The best things about dating again? Getting to know someone (and more about yourself in the process) and that delicious moment when you realize you're really connecting (sorry, cliché word, I know)."
3. "The selection process is easier now. After a divorce, you really know what you DONT want."
4. "Kissing someone new who knows how to kiss."
5. "I'm really enjoying getting to know the different types of women I've been seeing. I have a much broader perspective on dating than I had before my marriage. It's great to be free to interact, connect and learn more about women you meet, even if you're not dating them."
6. "The butterflies you feel when you're around someone you're truly interested in."
7. "I love having someone put actual effort into dates and I definitely love the excitement of first kisses! And truthfully, it's also nice to have someone pay."
8. "The best part is the thrill and anticipation leading up to the date. That feeling that the person you're about to meet just might be "the one" is intoxicating."
9. "Finding someone who appreciates my drive to be successful, and isn't intimidated by it has been wonderful. Dating again is the beginning of your search for a real partner."
10. "Two words: Making out. ;)"
11. "Dating new people is a great reminder of just how little your spouse appreciated you while you were married."
12. "Everything is new. There is nothing quite like the feeling of liking someone and knowing they're into you, too. That feeling of discovering one another is amazing. You know it will fade but you hope it's replaced by something even more special."
13. "It really is nice to have grown-ups-only time away from the kids."
14. "Dancing all night, not spending a dime, and not having to go home with your date is kind of the best."
15. "You get to feel desirable again. I'm only recently officially divorced, so I haven't even kissed anyone else yet, but I can't tell you how nice it is to flirt and be flirted with again."
Keep in touch! Check out HuffPost Divorce on Facebook and Twitter. Sign up for our newsletter here.
BEFORE YOU GO
PHOTO GALLERY
Celebs Discuss Dating After Divorce