NEW YORK -- The city's largest Colombian music festival returns on Saturday, where it will honor the work of composer and performer Pablo Mayor on his 50th birthday.
Unlike previous years, the Colombian musicians at the 11th annual Encuentro Colombian Music Festival will be joined by Afro-Cuban, Puerto Rican and Mexican colleagues on several numbers, including big names like Grammy Award-winner Arturo O'Farril and Tito Puente Orchestra alumnus Louis Bauzó.
The new direction aims to highlight the natural affinities that Colombian music -- with its African-influenced rhythms, wide adoption of indigenous instruments, and European-inflected sense of harmony -- shares with similarly multicultural countries across the Americas.
"We're throwing a very Colombian party and we've invited some special international guests," Pablo Mayor told The Huffington Post. "The idea was to begin to collaborate. It fosters a kind of personal and spiritual growth because you have to accept the way different people think."
The four-hour festival at Le Poisson Rouge in the Village offers a window into the wide variety of styles that fit under the umbrella of Colombian music.
An instrumental guitar performance from Sebastián Cruz, the marimba of Diego Obregón and the booming voice of Ronald Polo will share a spot on the program with a modern dance performance led by Daniel Fetecua. MAKU Sound System's Camilo Rodriguez and Juan Ospina will play the gaitas, an emblematically Colombian wind instrument with indigenous origins.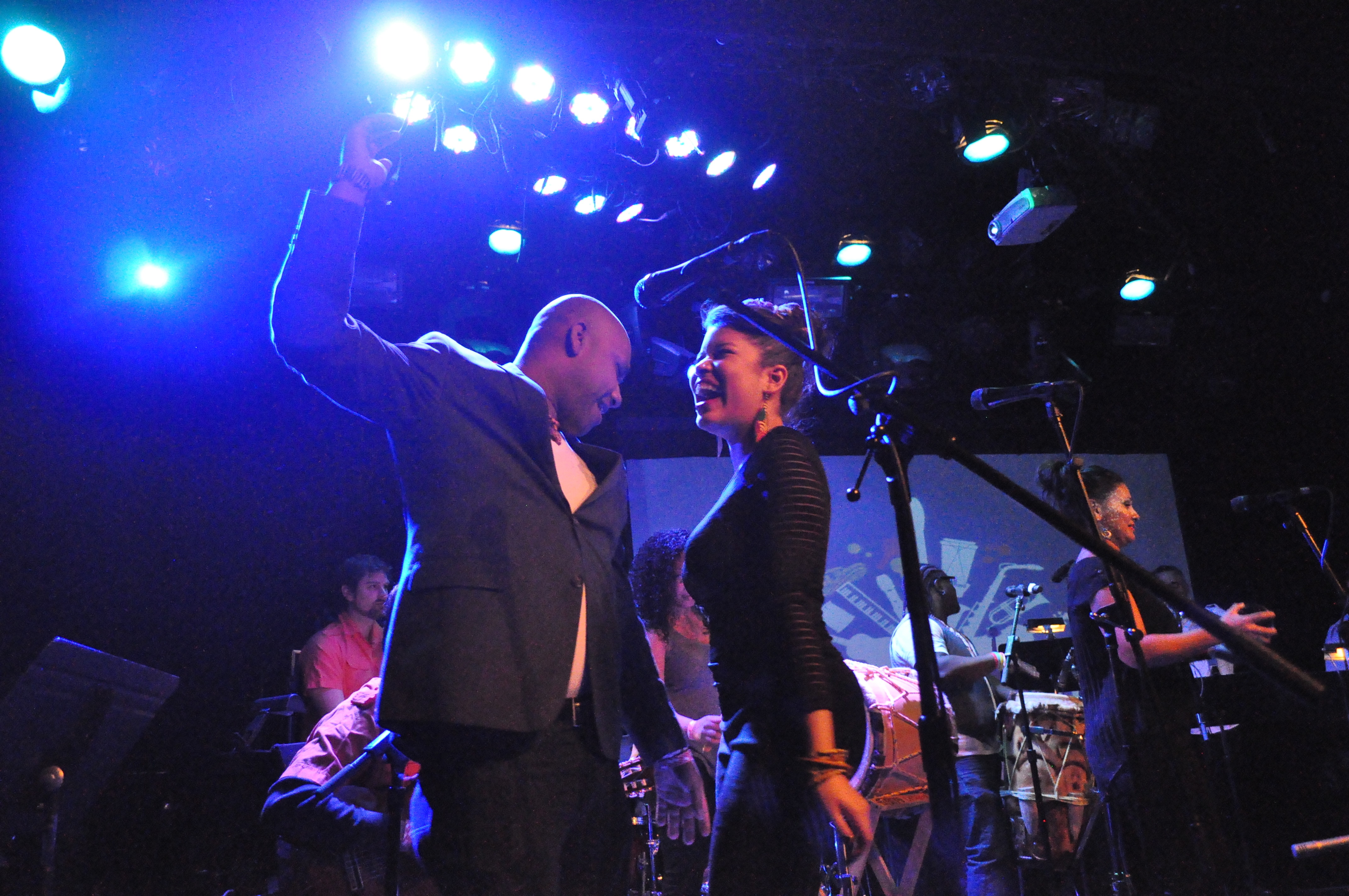 Grupo Rebolú performs at last year's Encuentro Colombian Music Festival. (Photo: Carolina Ramirez for The Huffington Post)
A performance of theatrical music led by Mexican actor Germán Jaramillo will usher in the internationalization of this year's festival, followed later by an Afro-Cuban segment. To highlight the Encuentro musicians' educational work, the program features a song sung by children of the artists, as well as some children who have studied with Encuentro musicians in programs in New York City's public schools.
The hard-driving Folklore Urbano orchestra will play a set with a series of guests, including a performance of Arturo O'Farrill's Grammy-nominated composition "Mercado en Domingo." The newly formed Folk Colombia all-stars will end the night with a set of pure dance music.
Colombians in the city have built a thriving music scene that runs the gamut of styles, from Latin jazz to salsa, from punk to porro. It's a tightly knit community, where many bands share members, and older, more experienced musicians nurture younger aspirants.
The common thread uniting them is a reverence for the traditional musical styles that define their homeland, like bullarengue, mapalé, joropo or cumbia.
Mayor has a special place in that group. He helped found the Encuentro in 2003, when he and a group of other musicians brought the legendary Gaiteros de San Jacinto from Colombia to play in New York. Locals responded so positively to the show that Mayor resolved to organize them annually as a way to bring the community together.
O'Farrill has long admired the Encuentro, calling it a "mandatory" show for anyone who loves jazz or Latin music. This year will be the first time he plays it.
"We're happy to be a part of Encuentro and Pablo's birthday celebration and part of a community of Colombian musicians that keep true to their culture while embracing jazz," O'Farrill told HuffPost. "It's music that has unbelievable energy and joy and it's not what most people think of jazz -- that it's elite, brooding music that you have to be a specialist to understand. I think that's what's some jazzers made it, but I think Latinos have reclaimed it. This is relevant music that nurtures the soul."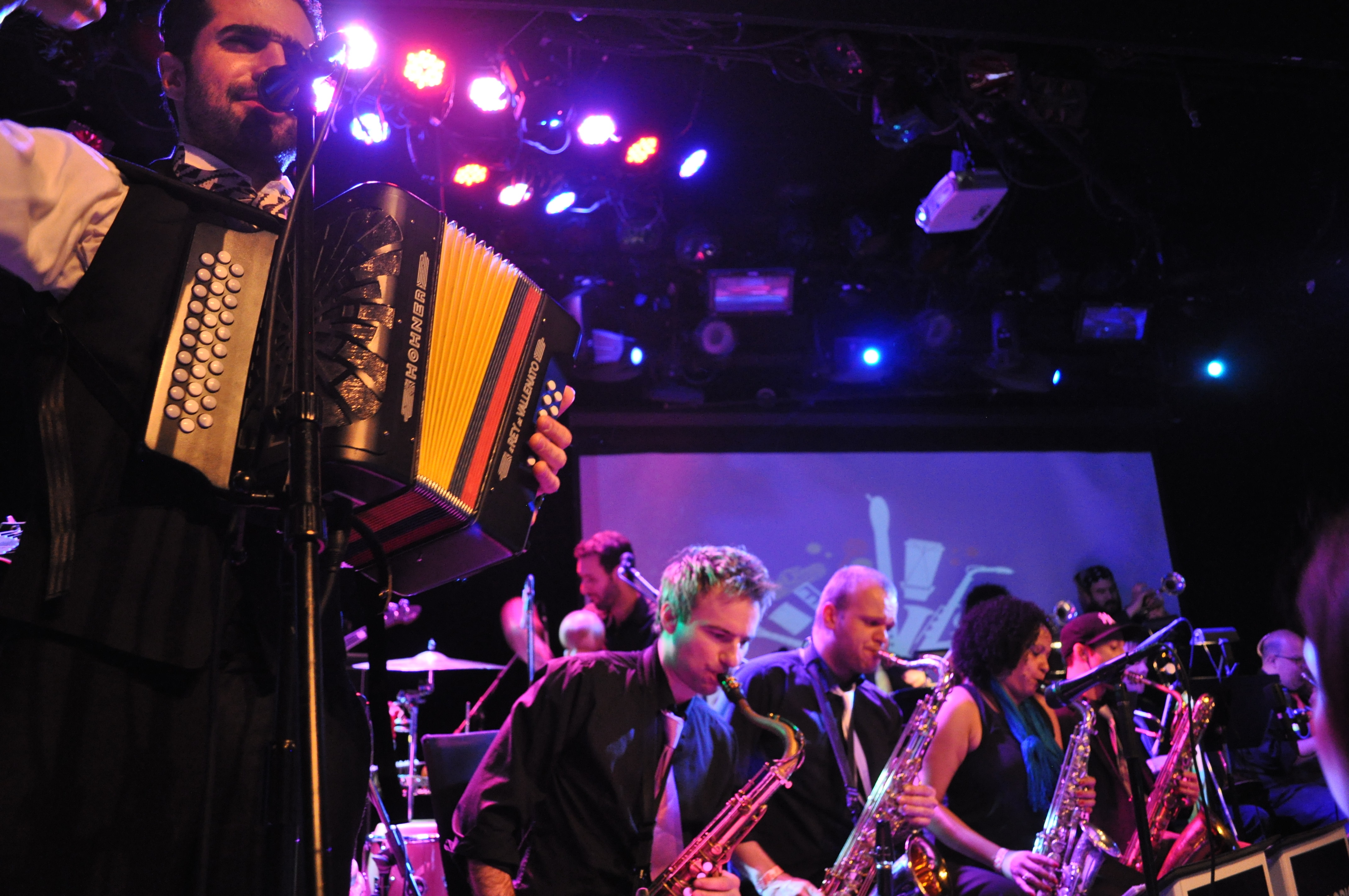 The Gregorio Uribe Big Band performs at the 2013 Encuentro Colombian Music Festival. (Photo: Carolina Ramirez for The Huffington Post
Gregorio Uribe, a multi-instrumentalist, singer and big band leader, echoed that sentiment, saying that what defines Colombian music is the way is fuses the different strands that make up the country's culture.
"The interesting thing about Colombia is that, like in many other countries, we're aiming to find unity within diversity," Uribe said. "Colombian music is absolutely diverse. … The only thing that I can say is that it's the different hues of mestizaje," he added, using a Spanish word that refers to racial and cultural mixing common to the region.
Hear what the Encuentro's musicians sound like in the slideshow below.
BEFORE YOU GO
PHOTO GALLERY
Encuentro NYC Colombian Music Fest 2013