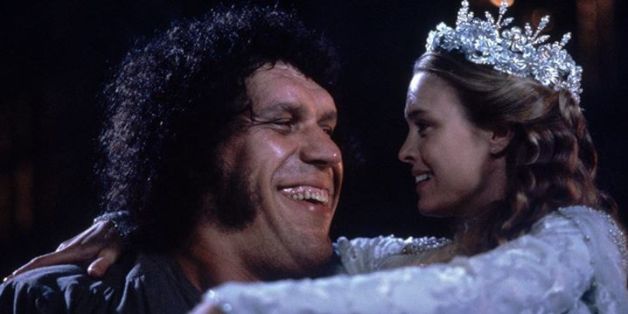 The only way the film "The Princess Bride" could be better is if it included some of these feminist lines.
On Nov. 12, Canadian writer Anne Thériault took to Twitter to respond to Time Magazine's decision to include the term "feminist" in their "words that should be banned in 2015" poll.
Having @time include feminist on their words to ban list makes me want to say it even more, like a petulant child. Feminist, FEMINIST.

— Anne Thériault (@anne_theriault) November 12, 2014
Her reaction was a perfect mix of humor, feminism, wit -- and of course -- "The Princess Bride" references.
Like in the Princess Bride when Miracle Max's wife chases him around yelling, "Humperdink, Humperdink, Humperdiiiiiiiink."

— Anne Thériault (@anne_theriault) November 12, 2014
Then Thériault's lightbulb moment:
@AaronWrotkowski "HAVE FUN STORMING THE PATRIARCHY" #feministprincessbride

— Anne Thériault (@anne_theriault) November 12, 2014
And #FeministPrincessBride was created:
Hello, my name is Inigo Montoya. You denied my mother equal pay. Prepare to be on the wrong side of history. #feministprincessbride

— Sam Ladner (@sladner) November 13, 2014
Street harasser: who are you?
Woman: No one of consequence.
Harasser: I must know.
Woman: Get used to disappointment. #feministprincessbride

— Anne Ursu (@anneursu) November 13, 2014
"Patwiarchy, Patwiarchy, bwings us togever today. Patwiarchy, that cursed awangement, that scheme wiffin a scheme." #feministprincessbride

— John Muller (@mrjohnmuller) November 12, 2014
Banning the word feminism ? INCONCEIVABLE!! #feministprincessbride

— Vanessa Killen (@KillenKirkham) November 14, 2014
"Surrender."
"You mean you and the patriarchy wish to surrender to me? Very well, I accept." — #feministprincessbride

— Shawn Barney (@spbarney) November 12, 2014
@anne_theriault No more sexism, and I mean it! Anybody want a peanut? #feministprincessbride

— laurie petrou (@lauriepetrou) November 12, 2014
@anne_theriault Vizzini: You fell victim to one of the classic blunders - ... "never harass a woman on the street" #feministprincessbride

— Alex Millard (@Hippoinatutu) November 12, 2014
Buttercup: We'll never achieve gender equality.
Westley: Nonsense. You're only saying that because no one ever has.
#feministprincessbride

— Anne Thériault (@anne_theriault) November 12, 2014
"I could give you my word as a YouTube commenter,"
"No good, I've known too many YouTube commenters."
#feministprincessbride

— Aaron Wrotkowski (@AaronWrotkowski) November 12, 2014
Inhale this, but do not touch.
- I smell nothing.
What you do not smell is called patriarchy. #feministprincessbride

— Bronwyn. Really. (@beetrix) November 12, 2014
"The hetewonowmative monogamist pawadigm is what bwings us toogevah, today!" #feministprincessbride

— Kira Hall (@kiranorth) November 12, 2014
.@TIME: "Why'd you say that word? You promised me u would never say that word!"
Me: "Feminism! Feminism! #Feminism!"
#FeministPrincessBride

— Eileen Tull (@Tullie23) November 12, 2014
"I have comment wars to start, women to doxx, and ethical journalism to frame for it. I'm swamped." #feministprincessbride

— Megan McCheesen (@McCheesen) November 12, 2014
"I have no gate key."
"Fezzik, explain to him his complicity in rape culture."
"Oh, you mean *this* gate key."
#feministprincessbride

— Derek Wood (@InstaDerek) November 12, 2014
Man in Black: I challenge you to a battle of wits.
Vizzini: For the Princess?
Man in Black: Women are not prizes
#feministprincessbride

— Jeff (@jgeady) November 13, 2014
"Who smashes the patriarchy?"
"Nobody. It lives."
"You mean misogyny wins? Jesus, what'd you read me this thing for?"
#feministprincessbride

— Lea Grover (@bcmgsupermommy) November 12, 2014
Good night, misogyny. Good work. Sleep well. I'll most likely kill you in the morning. #feministprincessbride

— Mary Beth Williams (@embeedub) November 13, 2014
In other words:
Have fun storming the patriarchy! #feministprincessbride pic.twitter.com/8Dbootf027

— Kate Geiselman (@Gee_Kate) November 13, 2014
H/T Buzzfeed
BEFORE YOU GO
PHOTO GALLERY
Funny Women We Love