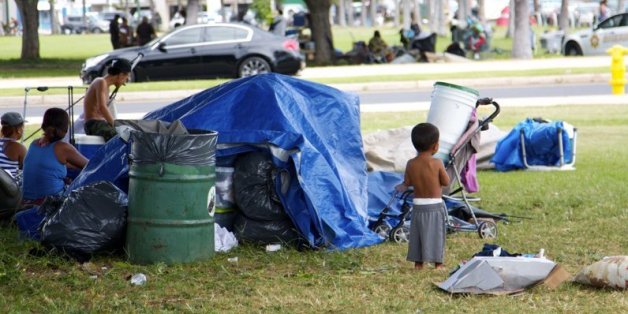 It seems Honolulu Mayor Kirk Caldwell's "war on homelessness" pauses for nothing -- not even National Homeless Awareness week.
On Thursday, Honolulu officials forced hundreds of homeless people out of a city park, and critics say the sweep was prompted by CBS's "Hawaii Five-0" shooting schedule.
At Kakaako Gateway Park, Department of Facility Maintenance crews tossed mattresses, tarps, suitcases and other items belonging to homeless people into dump trucks as part of Honolulu's strict "sidewalk nuisance" bill, which allows authorities to remove anything deemed a public nuisance from sidewalks.
Nine other sweeps took place around the city in October, but Thursday's clean-up raised eyebrows since "Hawaii Five-0" is set to begin shooting a car chase scene through the same part of Kakaako over the weekend.
Shortly after the sweep was completed, homeless advocates reported seeing "No Parking" signs posted along the sidewalks that read "Eye Productions," the show's production company.
A spokesperson for the mayor, Jesse Broder Van Dyke, told the Honolulu Star-Advertiser that the production company acquired a permit to shoot in the area after the plans to evict the homeless had already been arranged by the city.
The show's executive producer, Jeff Downer, echoed this timeline to Honolulu Civil Beat, "We would not force the homeless to move to shoot 'Hawaii Five-0. They had the [enforcement action] already on the books."
The Kakaako homeless camp had become home to entire families. Civil Beat described dogs waiting for their owners and kids playing in the grass while their parents packed up. Some children were crying, "seemingly distraught about being uprooted once again."
Annabell Murray, a lawyer standing by to help the homeless protect their belongings, told the Honolulu Star-Advertiser that she remains suspicious about the motivation and timing for the sweep. "This is all, I believe, part of getting the roads cleared for the 'Five-0' shot ... A lot of the kids are still in school, so they're going to come walking back here ... and see that all their stuff is gone."
Hawaii's homeless population has grown 32 percent over the past five years; an estimated 1,600 people are now homeless there. Honolulu, which has the highest concentration of homelessness in the state, has been struggling with how to best fight the issue.
Unfortunately, as the state pushes out more incentives to bring in film and television productions, more clashes like this might be likely.
See photos of the sweep below:
PHOTO GALLERY
Honolulu Homelessness Sweep
BEFORE YOU GO
PHOTO GALLERY
Haunting Photos Of Vets On The Street Underscores Homelessness Issue