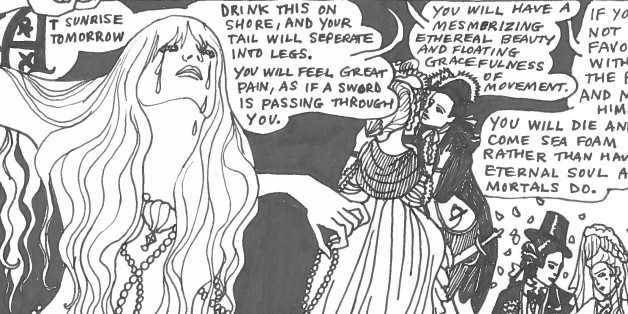 The following originally appeared in The Graphic Canon of Children's Literature, an anthology that rounds up the best comic adaptations of classic stories for kids. In this particular excerpt, illustrator Dame Darcy puts a graphic spin on the The Little Mermaid.
Disney's version isn't exactly faithful to the original. Hans Christian Andersen's story does involve a mermaid's quest for the love of a prince -- a desire that earns her a temporary pair of legs for her mission. But rather than swiftly falling in true love, Ariel endures physical pain and is betrayed for another by the prince. She's then asked to choose between his life and hers, and the pressure of the choice drives her to throw herself into the sea, and she turns into sea foam.
Darcy's comic finds a middle ground between the Andersen's sinister tale and Disney's glossy adaptation. Her depiction of the sea-witch's lair includes the bones of shipwrecked sailors, and she includes the gruesome detail about the removal of Ariel's tongue during her journey on land.
Read a portion of Dame Darcy's "The Little Mermaid" below:
PHOTO GALLERY
'The Little Mermaid' Comic
BEFORE YOU GO
PHOTO GALLERY
Books To Sweep You Off Your Feet