If you've ever looked at folklore's jolliest old men and gotten the heebie-jeebies -- we're looking at you, Willy Wonka and Santa Claus -- this contemporary art experience will give you goosebumps in the best/worst way possible. It's called "Chocolate Factory" and it comes straight from the brain of the art world's most beloved creepy old man, Paul McCarthy.
If you've heard that name recently, it's probably in the context of the giant inflatable sculpture recently installed in Paris' Place Vendôme that, despite its title of "Tree," bears a striking resemblance to a super-sized butt plug. If you were of the camp that was offended by the 80-foot holiday timber slash anal toy, you probably won't be too keen on McCarthy's accompanying show, a similarly perverse romp that will forever tarnish your holiday cheer.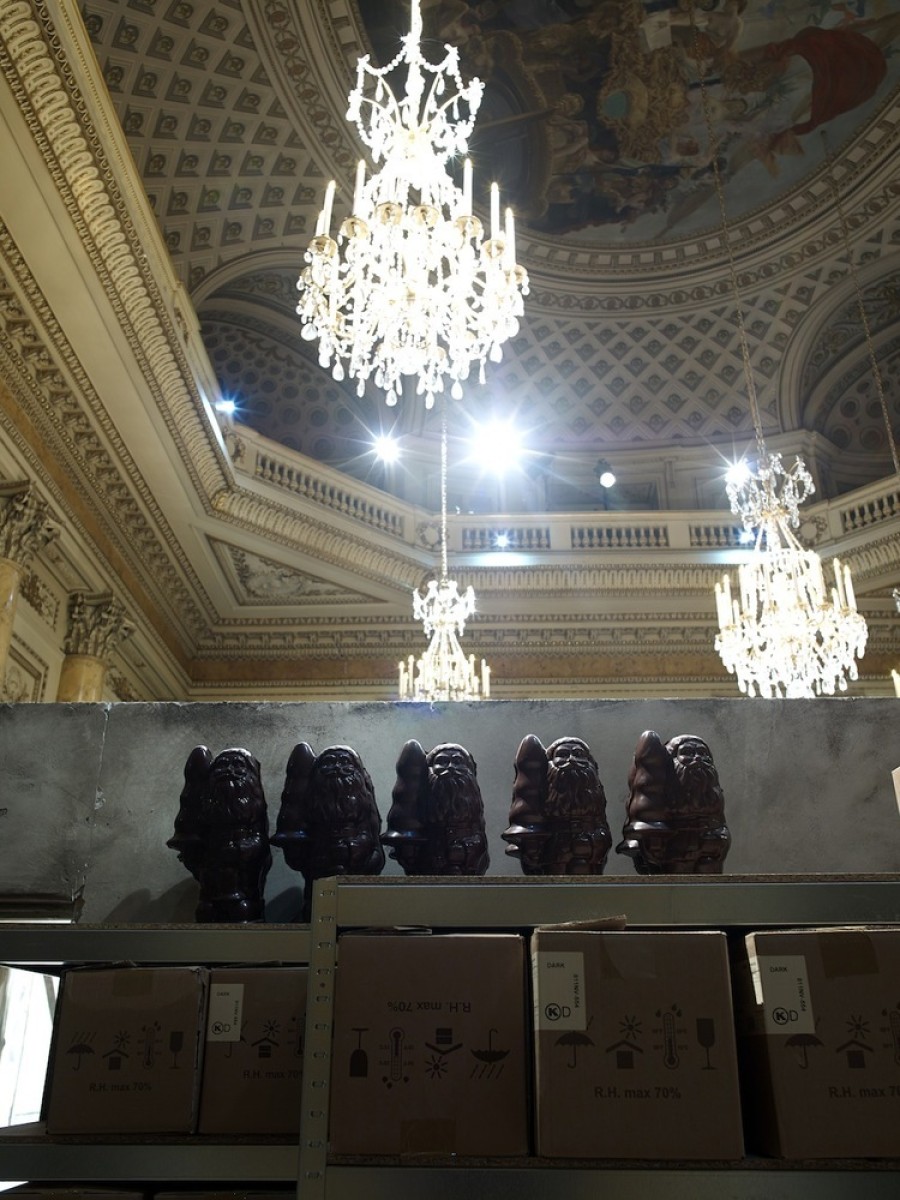 The show takes place at the newly re-opened Monnaie de Paris, the Paris Mint, which, dating back to 864, is Paris' oldest institution. The Mint has embarked upon a new cultural strategy, hosting a contemporary artist to make and present his or her work in the historic building each year.
McCarthy was certainly a bold choice for the first recruit. The artist's most recent forays into the art world consist of a pornographic interpretation of Snow White, a self portrait sculpture so realistic we're still having nightmares, and a giant piece of inflatable poop.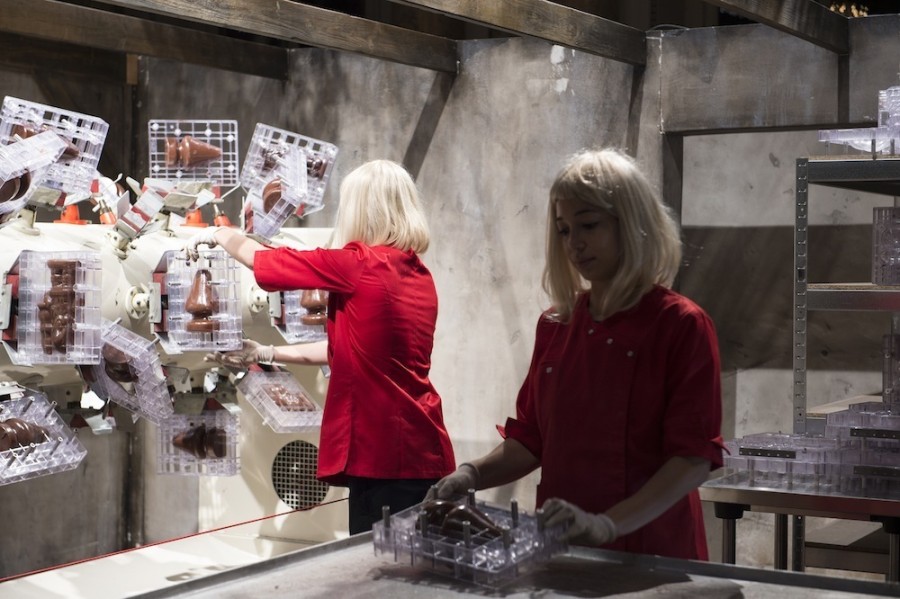 His chocolate factory fits right into the mold, toeing the line between high brow artspeak and questionable fart jokes while addressing the magic of Hollywood and the dark side of the American dream. McCarthy fully transforms the entire ancient Parisian establishment, erecting within its opulent Baroque architecture a fully functional chocolate factory. First the viewers enter into a fairy tale forest of inflated butt plugs Christmas trees before making their way through a life-size chocolate making operation. Confectioners in blonde wigs and red shirts are hard at work, mass producing edible sculptures of a gnome-like Santa and his favorite NSFW tree shape.
The operation exposes the mechanics behind mass production, which surge as a result of all that holiday cheer. The chocolate sculptures, or edible artworks, are available for purchase at the site of the exhibition. You can buy (and eat) the art on view -- a magical opportunity of truly Willy Wonka-size proportions. The fact that all this takes place within the oldest manufacturing plant in Paris is the final punchline.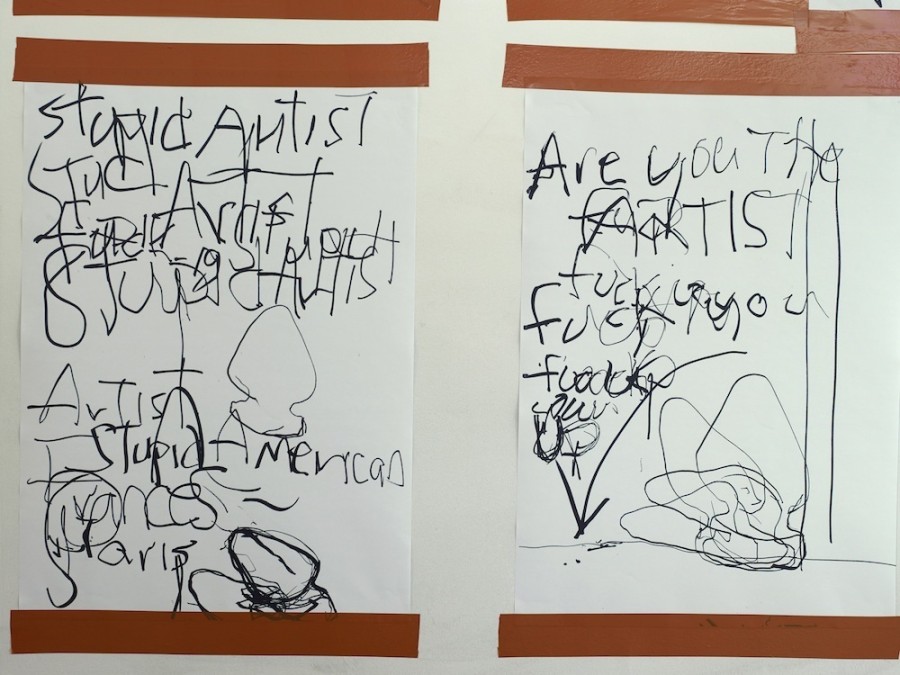 The second portion of the exhibition operates as a personal dreamworld; in effect, the complete opposite of an impersonal, efficient factory setting. Viewers are left with the choice of whether or not to view this portion of the show, which features eight different films played in eight different salons, each designed to speak directly to our subconscious, hidden parts. The artist's bed sits as the centerpiece, the locus of said dreaming, a space where dominance is relinquished in favor of the endless possibilities of slumber.
Finally, McCarthy's show folds back on itself, incorporating angry reactions to the public "Tree" onto a scribbled canvas. Phrases like "eat shit" and "are you the artist" clearly didn't only provoke but also inspired the artist -- especially the former. McCarthy's exhibition plays dirty in every way -- until all your favorite childhood folkloric figures are conspiring to have you stuff your face with chocolate shaped like a dildo-wielding gnome, all for the sake of art.
McCarthy's "Chocolate Factory" will surely be rude, foul and fantastical all the same -- think Willy and St. Nick's frat house on hazing night. But McCarthy remains one of the artists whose gross-out tactics never quite overshadow his ideas and skill. Looks like he can have his chocolate butt plug and eat it too.
PHOTO GALLERY
Chocolate Factory
"Chocolate Factory" runs at January 4, 2015 at the Monnaie de Paris.
BEFORE YOU GO
PHOTO GALLERY
Paul McCarthy "WS"