Sometimes performance art can be so abstruse understanding its meaning is like digging for a needle in a haystack. Other times, artists are actually digging for needles in haystacks, and the meaning is all too (painfully) obvious. Yes, performance art has officially swallowed itself and puked itself back out, thanks to an Italian artist named Sven Sachsalber.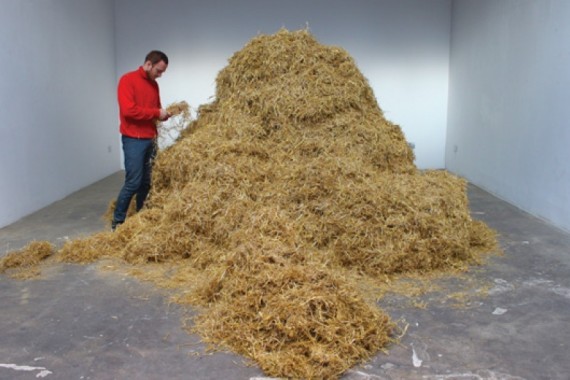 In what sounds like a line from The Onion, Sachsalber will spend at least 48 hours at Paris' Palais de Tokyo searching for a needle hidden by museum director Jean de Loisy. ''It is a symbol of the search we are all doing for something,'' Loisy told BBC News. Yup, we get it. The piece, which bears the overwrought title "Performance," began on November 13, and continues for as long as it takes to locate said bodkin. We know, the anticipation is too much.
As far as bizarre and pointless-seeming artworks go, this isn't Sachsalber's first time at the rodeo. According to ArtNet News, his most well-known feats include eating a poisonous mushroom, rooming with a cow for 24 hours, and cutting down a massive tree by hand. In fact, even as far as artworks that involve searching for a needle in a haystack this isn't Sachsalber's first gig. A previous version of the work, dubbed "Die Nadel im Heuhaufen (Needle in a Haystack)," took place in 2012 at London's Limoncello Gallery.
If you've always wanted to know what it looks like to actually look for a needle in a haystack, check out this three-hour-and-48-minute YouTube video capturing the adrenaline rush in live feed. Let's give it up for performance art!
BEFORE YOU GO
PHOTO GALLERY
20 Most Confusing Performance Art Pieces Of All Time