Angelina Jolie appeared at the Hollywood Film Awards on Friday night and, besides Ben Affleck's nudity jokes and Johnny Depp's bizarre speech, she completely stole the show.
The 39-year-old actress appeared in a strapless Atelier Versace full-length black gown when she took the stage. Jolie presented the New Hollywood award to Jack O'Connell, who portrays a former Olympic track star and World War II POW in her second directorial effort "Unbroken."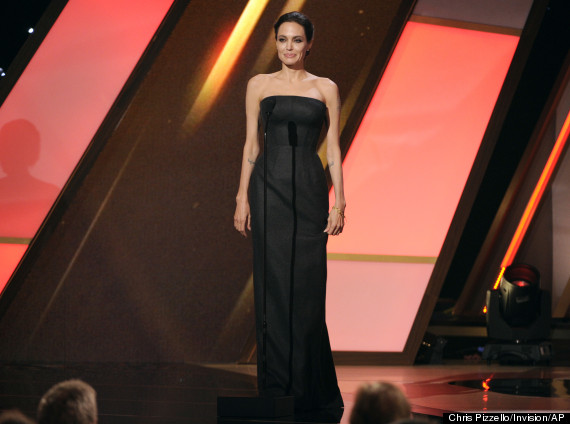 When accepting his award, O'Connell thanked Jolie and acknowledged her new title of Honorary Dame, as recently granted by Queen Elizabeth II. "Angelina, my esteemed boss and good friend, her ladyship," the actor said before taking a bow on stage.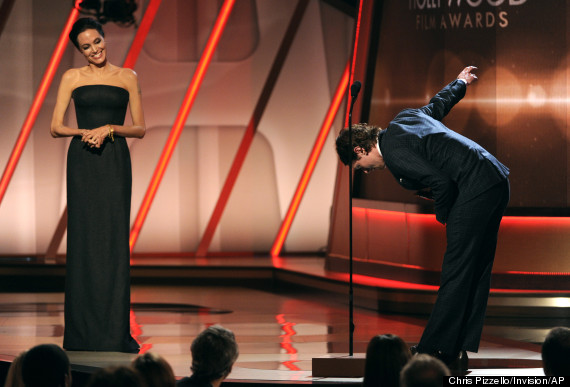 The Oscar-winner most recently told Vanity Fair about her interest in possibly moving into politics in order to "make an extreme change." Jolie isn't sure if a major career shift is in her near future, though. Besides promoting "Unbroken," which hits theaters on Christmas Day, Jolie is also working on "By the Sea," which she directs and co-stars in alongside husband Brad Pitt.
BEFORE YOU GO
PHOTO GALLERY
Brad Pitt and Angelina Jolie 'Wedding' Photos