Your Uber ride is about to get a bit more personal.
The taxi app announced on Monday that it's partnering with Spotify. In the very near future you'll be able to listen to your specific playlists during your Uber ride.
To make it work, you'll connect your Spotify account to your Uber account, request a ride and select a playlist from within the Uber app. When your car arrives, it's supposed to start playing what you requested.
The service launches on November 21. On that day you'll be able to request a Spotify ride. After that, Uber users will have to see if a 'music bar' appears at the bottom of the Uber app when they request a ride, a Spotify representative told The Huffington Post. No music bar, no Spotify.
The new functionality will be available in 10 "launch cities" -- London, Los Angeles, Mexico City, Nashville, New York, San Francisco, Singapore, Stockholm, Sydney and Toronto. The new service won't be made available in UBERPOOL, a carpooling option.
There is another snag, albeit not a surprising one: You have to subscribe to Spotify Premium, the streaming music service's $9.99-per-month model. Uber said in a blog post that users will be able to try premium for a free week -- the trial starts "when you take your first music ride."
Once you're in the car, you will be able to control your music from either the Uber app or the Spotify app.
Interested users can get their accounts integrated now. Log into your Uber account at riders.uber.com and click the option to connect your Spotify account:

1. Click to connect Spotify after you've logged into your Uber account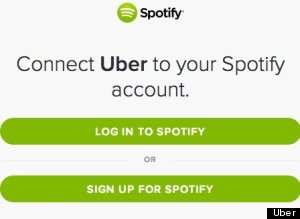 2. Log into your Spotify account when prompted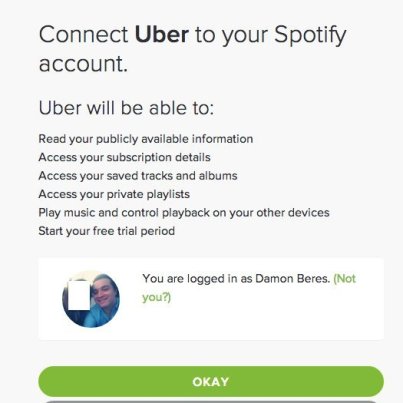 3. Accept the permissions and you're done
Of course, you still won't be able to listen to Taylor Swift when your ride arrives -- which, in fairness, certain drivers might appreciate after months of "Shake It Off."