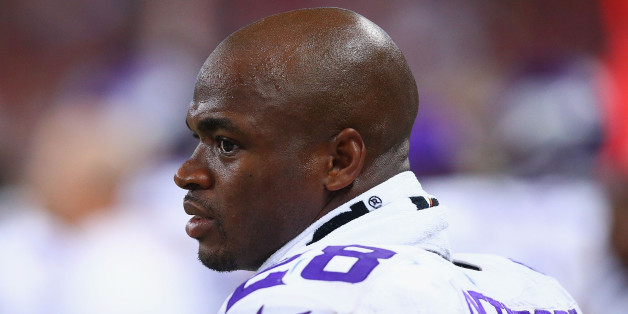 The NFL suspended Minnesota Vikings running back Adrian Peterson for at least the remainder of the 2014 season, without pay, for violating the league's Personal Conduct Policy. The violation stems from a child injury case, in which Peterson recently pleaded no contest to a misdemeanor charge of reckless assault for using a wooden switch to discipline his 4-year-old son.
ESPN's Adam Schefter reported that Peterson is appealing the suspension immediately.
NFL Commissioner Roger Goodell explained the suspension in a letter to Peterson, writing that he has "shown no meaningful remorse" and that his reinstatement "will be based on the results of the counseling and treatment program set forth in this decision."
"Moreover, it appears that this is not the first time that you have punished children in this way. Public statements attributed to you indicate that you believe that this kind of discipline is appropriate and that you do not intend to stop disciplining your children this way," Goodell wrote.
The NFL Players Association issued its own statement shortly after Peterson was notified of the discipline, writing that the suspension is "another example of the credibility gap that exists between the agreements they make and the actions they take."
"The facts are that Adrian has asked for a meeting with Roger Goodell, the discipline imposed is inconsistent and an NFL executive told Adrian that his time on the Commissioner's list would be considered as time served," the NFLPA said. "The NFLPA will appeal this suspension and will demand that a neutral arbitrator oversee the appeal."
Appearing on ESPN Radio's "Mike & Mike," NFLPA Director DeMaurice Smith called out the league for its "inconsistent" disciplinary process.
"The process that the NFL has employed since the beginning of the season has been arbitrary, inconsistent, uneven and inconsistent with collective bargaining agreement. And you know that our position, first and foremost, always stands on process. That's what our union is here to do on behalf of our players. And you get the feeling that the NFL over the last few months has simply been making it up as they go along," Smith said. "And that is something that is not in the best interest in the game, certainly not in the best interest in the players and I know not in the best interest of our sponsors."
More from the Associated Press:
MINNEAPOLIS (AP) — Adrian Peterson was suspended without pay for at least the rest of the season by the NFL on Tuesday.

The league said it informed the Minnesota Vikings running back in a letter from Commissioner Roger Goodell that he will not be considered for reinstatement before April 15 for violating the NFL personal conduct policy — the first example of the league's crackdown on players involved with domestic violence.

The NFL Players Association quickly announced its plan to appeal, sharply rebuked the league's alleged inconsistency and unfairness in the process. The NFL's words were even stronger, with a nearly 1,600-word statement spelling out his path to a return to the field and describing the reasons for the punishment.

Peterson pleaded no contest Nov. 4 to misdemeanor reckless assault in Texas for injuries to his 4-year-old son with a wooden switch. He said he intended no harm, only discipline. Peterson was on a special exempt list at the sole discretion of NFL Commissioner Roger Goodell, essentially paid leave while the case went through the legal system.

The NFLPA said Peterson was told that would count as time served for any suspension levied, citing an unnamed NFL executive. League spokesman Brian McCarthy said by email the stay on the exempt list was taken into account.

"There were aggravating circumstances that led to the discipline announced," McCarthy said.

Peterson's salary for the season was $11.75 million. He will keep the pay accrued while on the exempt list.

Peterson's agent, Ben Dogra, told The Associated Press he and his client were scheduled for a conference call Tuesday with the NFLPA to discuss options.

"We look forward to filing an immediate appeal and coming to a resolution for Adrian Peterson that would be appropriate under the circumstances," Dogra said.

The Vikings don't practice Tuesdays. The organization issued a brief statement: "We respect the league's decision and will have no further comment at this time."

Goodell announced on Aug. 28 that the league would toughen punishment for players involved with domestic violence. That action stemmed from a torrent of criticism for the initial leniency toward Baltimore Ravens running back Ray Rice following a caught-on-camera knockout punch of the woman who is now his wife.

The Vikings (4-6) have six games left this season. The league's enhanced policy calls for a six-game suspension for first offenses of assault, battery or domestic violence. Aggravating circumstances warrant higher levels of discipline, and Goodell's letter to Peterson spelled that out.

Goodell pointed to the child's age and the significant physical difference between Peterson and his son.

"Further, the injury inflicted on your son includes the emotional and psychological trauma to a young child who suffers criminal physical abuse at the hands of his father," Goodell wrote. "Second, the repetitive use of a switch in this instance is the functional equivalent of a weapon, particularly in the hands of someone with the strength of an accomplished professional athlete."

Goodell also came down on Peterson for showing "no meaningful remorse" for hurting the boy and expressed concern that he "may feel free to engage in similar conduct in the future."

The union has accused the league of overstepping bounds spelled out in the collective bargaining agreement.

"The decision by the NFL to suspend Adrian Peterson is another example of the credibility gap that exists between the agreements they make and the actions they take. Since Adrian's legal matter was adjudicated, the NFL has ignored their obligations and attempted to impose a new and arbitrary disciplinary proceeding," the NFLPA said.

___

AP NFL websites: http://www.pro32.ap.org and http://www.twitter.com/AP_NFL
BEFORE YOU GO
PHOTO GALLERY
NFL Players Take Aim At Goodell After Press Conference