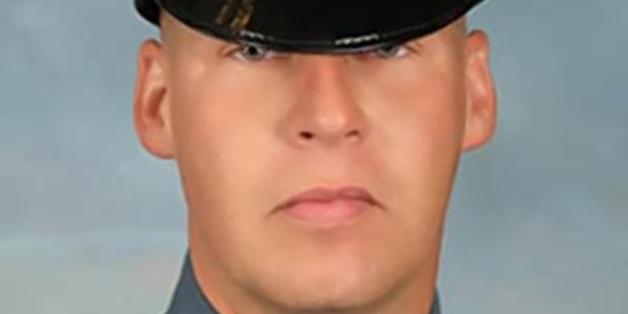 A New Jersey police officer is accused of repeatedly exposing himself to male motorists.
Newton police officer Jason Miller, 37, was arrested on Monday and charged with lewdness and official misconduct, according to the Smoking Gun.
A probable cause affidavit obtained by the Smoking Gun alleges that Miller exposed himself on numerous occasions to men after he pulled them over for traffic offenses.
The affidavit details five encounters, but the document says there is evidence of other "late night or early morning stops involving Officer Miller and young adult males…wherein it appears that Officer Miller's pants were opened and/or his genitals were exposed and/or a zipper can be heard opening or closing."
The incidents took place between March and October of this year, according to the New Jersey Advance.
In one incident detailed in the affidavit, Miller allegedly pulled over a man identified as 18-year-old J.A.
J.A. told investigators that when Miller approached his vehicle "he noticed the officer's zipper was down and he saw what he believed to be the officer's genitals."
Investigators also interviewed J.A.'s girlfriend who said that J.A. told her Miller's "junk was hanging out" of his pants.
In a statement obtained by the Advance, Newton Police Chief Michael Richards said that "by releasing this information, we hope to identify and interview anyone else who may have experienced a similar encounter or who has any information regarding these allegations. The investigation has not revealed any indications that the criminal activity perpetrated by Jason Miller was known to any other members of Newton Police Department or that any other members are involved in any similar misconduct."
Anyone with any new information on this case is asked to contact the Sussex County Prosecutor's Office at (973) 383-1570.
Like Us On Facebook |

Follow Us On Twitter |

Contact The Author
BEFORE YOU GO
PHOTO GALLERY
Police Brutality Incidents