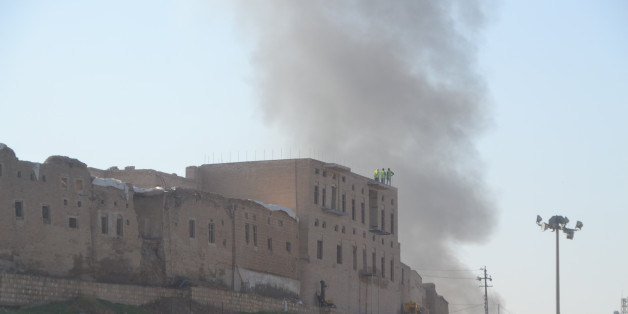 By Isabel Coles
ARBIL, Nov 19 (Reuters) - A suicide bomber driving a car packed with explosives blew himself up in the capital of Iraq's Kurdistan region on Wednesday, killing at least five people in the first big attack there in more than a year.
Mayor Nihad Latif Koja told Reuters the assailant had detonated himself as he tried to enter the governor's compound, which is protected by blast walls, in the center of Arbil.
Explosions are a regular occurrence in the federal capital Baghdad and other cities outside Kurdistan but the autonomous region has largely managed to insulate itself from the violence convulsing the rest of the country.
Islamic State militants who overran swathes of northern Iraq this summer have repeatedly threatened to launch attacks against the Kurds, who are fighting them along a front line stretching more than 1,000 km (600 miles).
Footage from the scene in Arbil after the mid-morning attack showed charred vehicles and blood smeared on the cobbles outside the governor's office. Windows on the opposite side of the street had been shattered by the force of the blast.
A witness interviewed live on Kurdistan TV said two policemen and two civilians had been killed in the explosion.
The United States launched air strikes in Iraq this August when IS militants advanced on Arbil, where many expatriates, including oil industry and aid workers, are based.
Since then, the region's peshmerga forces have regained ground from Islamic State, emerging as the West's most trusted and effective partner on the ground in their war against the Sunni extremists.
But the Kurdistan region's President Masoud Barzani on Wednesday said the peshmerga needed heavier weapons from the international coalition to deliver a decisive blow to Islamic State.
The last major attack in Arbil was more than one year ago, when militants launched a coordinated suicide and car bomb attack on the headquarters of the security services. Another blast took place in August, but there were no casualties. (Reporting by Isabel Coles, editing by Angus MacSwan)