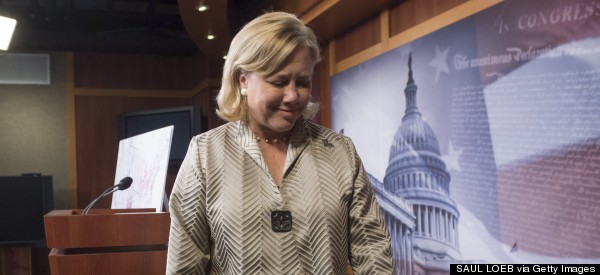 TOP STORIES
SENATE DEFEATS KEYSTONE, KILLS NSA REFORM BILLS Libertarian Sen. Rand Paul's (R-Ky.) "no" vote proved key to blocking the NSA reform bill, which fell two votes short, while Sen. Mary Landrieu (D-La.) couldn't muster a 60th vote approving construction of the Keystone XL Pipeline. Landrieu's reelection odds in her upcoming runoff continue to shrink.

TENSIONS RISE AFTER JERUSALEM SYNAGOGUE ATTACK Israel has been thrown into turmoil following the bloody attack on a Jerusalem synagogue that left five dead, including three rabbis with dual Israeli-United States citizenship. Prime Minister Benjamin Netanyahu ordered the destruction of the homes of the cousins who carried out the "lone wolf" attack, and Israel's security minister plans to ease civilian gun restrictions. In the Gaza Strip, some residents paraded in the streets after news of the attack broke. [WaPo]
ST. LOUIS MAYOR REQUESTS ADDITIONAL NATIONAL GUARD TROOPS St. Louis Mayor Francis Slay has asked that 400 National Guard troops be deployed in St. Louis in addition to those stationed in Ferguson. And Metro Shooting Supplies, a gun store located near Ferguson, has seen its gun sales jump 700 percent. "These people are afraid," said owner Steve King. "One hundred percent of them are buying because of Ferguson." [HuffPost]
AUTO SAFETY REGULATORS WANT AIR BAG RECALL The air bags, which have been linked to several deaths, are produced by Japanese supplier Takata and used in vehicles manufactured by Ford, Honda and BMW, among others. [WSJ]
SECOND WOMAN DIES OF BIRD FLU IN EGYPT "An Egyptian woman died on Tuesday of H5N1 bird flu after coming into contact with infected birds, the second death from the disease in two days and the third in the country this year, a health ministry statement said. The 30-year-old woman was from the province of Minya, south of Cairo. She died in a hospital in the southern city of Assiut, the statement on the official MENA news agency said. A 19-year-old woman died of bird flu on Monday in Assiut. Egypt has identified a total of seven cases of the virus this year, including the three who died." [NYT]
OIL PRICES ARE DOWN, AIRFARE IS NOT That fuel surcharge you see on your bill? It's not going away despite low oil prices. [Quartz]
JANICE DICKINSON CLAIMS BILL COSBY RAPED HER The supermodel alleges Cosby raped her in 1982. As more and more women come forward with rape allegations, the district attorney who didn't charge Cosby in 2005 stands by his decision. Netflix has postponed its Bill Cosby comedy special. And that untitled NBC Cosby pilot appears to be dead in the water. [HuffPost]
SNOW STILL COVERING HALF OF U.S. All fifty states (even Hawaii) endured freezing temperatures yesterday, and Buffalo was buried beneath six feet of snow. Here's how to keep your smartphone safe in freezing temperatures. [CNN]
WHAT'S BREWING
DWIGHT HOWARD INVESTIGATED FOR CHILD ABUSE Georgia authorities are looking into claims by the mother of the basketball's six-year-old child that Howard beat him with a belt. [Reuters]
CHRIS HEMSWORTH NAMED PEOPLE'S SEXIEST MAN ALIVE The father of three said he hoped this gained him some leverage around the house, and that he'd like to thank Matt Damon for paving the way. [People]
NIELSEN TO MEASURE NETFLIX VIEWERSHIP DATA We'll finally know just how many times people are binge-watching "Frasier." [WSJ]
WARNING: ALL YOUR OLD TWEETS WILL SOON BE EASIER TO FIND Those horrifically boring tweets about walking your dog are being indexed. [Twitter's Blog]
POLAR BEARS HAD A BAD DECADE The polar bear population dropped 40% in the area north of Alaska and northern Canada. [HuffPost]
THE "PEANUTS" MOVIE IS IN CGI Which, as Vulture points out, is like dubstepping Mozart. [Vulture]
SONY MUSIC MIGHT FOLLOW SWIFT'S LEAD Sony is contemplating pulling its artists' albums from Spotify following Taylor Swift's decision to yank her collection. Here's a reminder of how much (or how little) artists make from Spotify. [Variety]
THIS IS WHAT TEXTING DOES TO YOUR SPINE It's like an eight-year-old taking a piggyback ride on your neck. [The Atlantic]
ON THE BLOG
ARIANNA HUFFINGTON: A HISTORY OF SLEEP "Sleep is having its moment in the sun -- or, more appropriately, its moment in a darkened room, with blackout shades drawn, the temperature somewhere between 60 and 67 degrees Fahrenheit, all smartphones and tablets banished from the room and maybe a white noise machine softly whirring in the corner. You'd have to be severely sleep-deprived not to see evidence of the new sleep revolution." [HuffPost]
BEFORE YOU GO
~ This is what iPhone photos look like when taken by a Pulitzer Prize-winning photographer.
~ Beliebers now have the chance to sleep in Justin Bieber's childhood bedroom.
~ Nick Jonas played for change in a NYC subway station, which is almost as good as his gospel version of "Jealous." Almost.
~ You can buy Bob Marley weed next year.
~ Don't worry, caffeine addicts, Starbucks will be open on Thanksgiving.
~ Here's an Aaron Sorkin monologue generator tailored to your life.
~ And these tiny hamsters enjoyed Thanksgiving, with mini turkeys, stuffing and even pie.
Send tips/quips/quotes/stories/photos/events/scoops to Lauren Weber at lauren.weber@huffingtonpost.com. Follow us on Twitter @LaurenWeberHP. And like what you're reading? Sign up here to get The Morning Email delivered to you.