One Louisiana man has found a beautiful, but heartbreaking way to keep his late wife's memory alive.
Every morning since she died last year, 88-year-old George Travis has eaten his breakfast at the same restaurant in Shreveport with a framed photo of his wife Billy Mae set atop the counter beside him.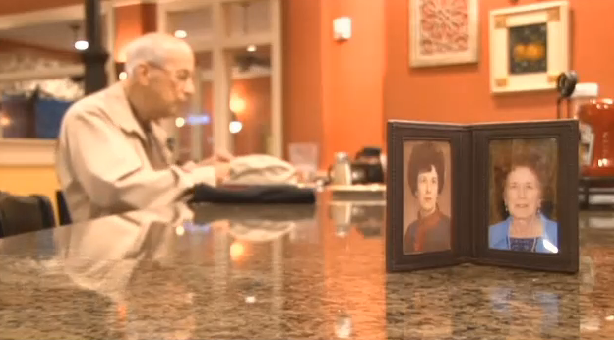 Credit: KSLA News 12
Customers and employees have taken notice, often expressing their condolences and occasionally even paying for Travis' breakfast, according to CBS affiliate KSLA.
He and Billy Mae first met when they were set up on a blind date at a Lions Club convention many years ago.
"I cherish the years that I had with her," Travis told KSLA. "If she could've lived just a little bit more I would've had 50 years with her."
When asked what he missed most about his late wife, he replied, "Everything."
"I miss being able to put my arms around her. She was a great love and she expressed her love to me. She let me know that she was my girl."
In October, a photo of another widower dining alone at an In-N-Out Burger with just a picture of his late wife broke the Internet's collective heart.
For more on Travis' touching love story, watch the video above.
Keep in touch! Check out HuffPost Weddings on Facebook, Twitter and Pinterest. Sign up for our newsletter here.

BEFORE YOU GO
PHOTO GALLERY
First Look Photos