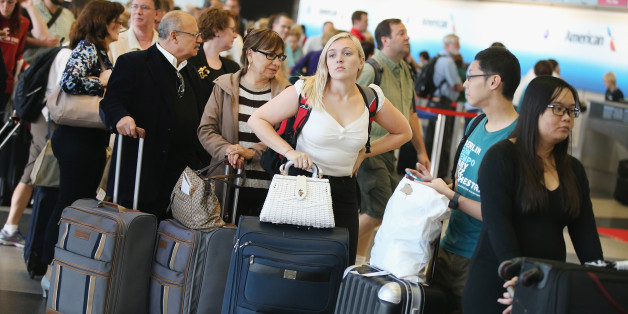 Holiday travel: those two words alone are enough to make our toes tingle... and not in a jolly holiday way.
While we have zero control over nasty holiday flight delays, we do have control over choosing the airports where they're least likely to happen.
Just a hint: Chicago O'Hare is NOT one of those airports.
At ORD, 42 percent of all flights were delayed during winter 2013. That's more than two out of every five flights! Other terrible performers included:
Fort Lauderdale International -- 38 percent of all flights were delayed
Newark Liberty International -- 37 percent of all flights were delayed
Denver International -- 37 percent of all flights were delayed
These results come via travel website Hopper, which analyzed government flight data from December through March 2013. Their map charts 20 of the nation's most popular airports -- the larger the circle, the more popular the airport. And the redder the circle's color, the more frequently it saw winter flight delays.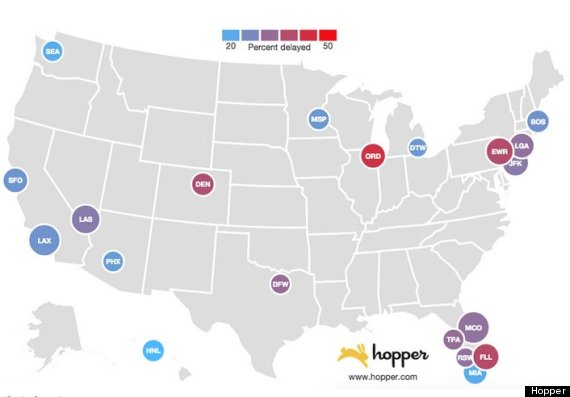 So which airports should you frequent to avoid delays?
Honolulu International ranked the best in Hopper's analysis -- a mere 14 percent of its flights were delayed during winter 2013. Florida is generally a tough place for delays in winter, Hopper points out, but if you must fly through the state, Miami International is your best bet.
When the whole year is considered, Salt Lake City International was the most punctual airport in terms of delays -- this bodes well for its performance during the 2014 holiday season.
And on the West Coast, LAX is a surprisingly solid bet, too: it performed significantly better than other big-name airports in another recent analysis from Decision Science News.
You know what this means, travelers: grab your ticket now, pick the right airport, and never fear a loss of holiday cheer!
BEFORE YOU GO
PHOTO GALLERY
America's Best and Worst Airports for Flight Delays