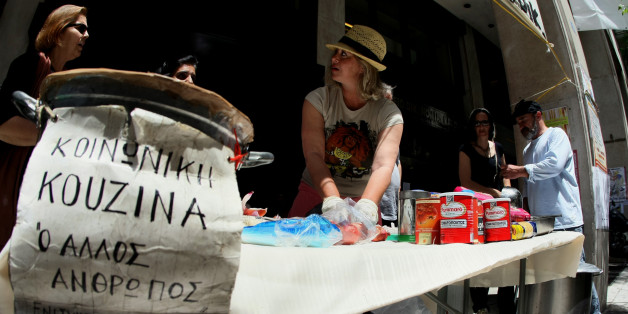 The joy of solidarity. Giving to people who are in need. Sharing food and communicating. A daily party on the street. This is what O Allos Anthropos community kitchen is all about.
"We offer a dinner of love, a daily party on the street. Like when we host a celebration and invite our friends," Kostas Polychronopoulos, the group's founder, told The Huffington Post. O Allos Anthropos serves at least 120 meals per day. The core team consists of about 10 people, but when passersby join in, as they frequently do, their numbers sometime soar as high as 150.
The two main spots where the kitchen appears are the refugee areas at Alexandra's Avenue and the Monastiraki Square. Those who want to track it in real time can follow the group's blog.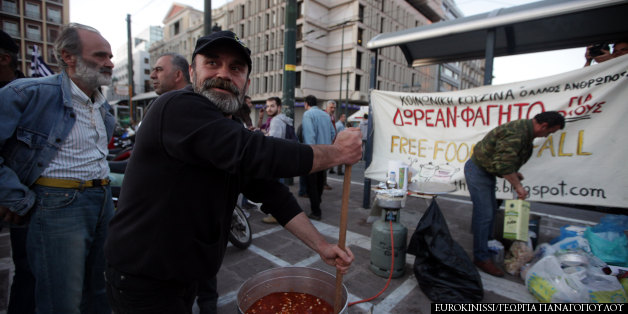 Founder Kostas Polychronopoulos, 12 April 2013
In September 2009, after 25 years as an executive in the advertising and marketing business, Polychronopoulos lost his job. He was 47 at the time, and financial difficulties forced him to move back into his family's home.
Then, four years ago, something changed him. On the street, he saw two children fighting over food in front of a trash bin.
"I saw people's indifference and it bothered me," he said. "Back then I was already unemployed. The following day I decided to prepare sandwiches and share them. But no one would take them. They took them only when they saw that I also ate one. There was mistrust in the beginning. And I got into their shoes. I wouldn't receive food if I hadn't seen how it was made, too. So I started preparing food on the street."
And how did he manage to find ingredients without money? "I went to the street market and I was asking for one potato from a vendor, one carrot from the other. Gradually passers-by started contributing. And this is way O Allos Anthropos began."
It's not just about food. Community Kitchen is also about providing a place for conversation and community.
"They eat at our place and we discuss," Polychronopoulos said. "This is the most essential. Food helps us come closer."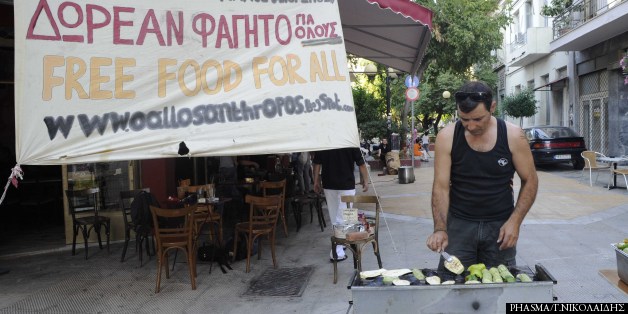 Starting on January 15, O Allos Anthropos will tour Greece, cooking for people in cities across the country. Their goal is to set an example for local communities so that they may continue the effort.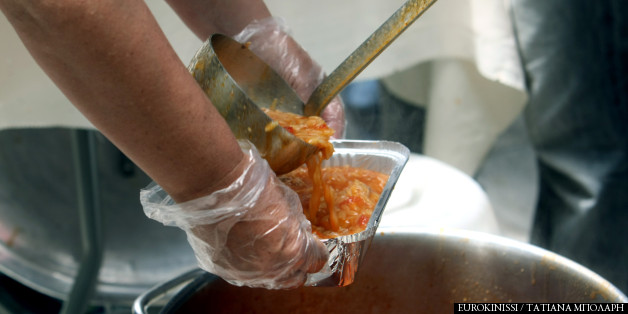 O Allos Anthropos also has a house, where anyone in need can have a shower, drink a coffee or grab some breakfast. Other offerings include a theater group and a psychologist who is available once a week.
For more information on O Allos Anthropos, and how you can help its mission, visit the blog.
This article originally appeared on The Huffington Post Greece and was translated from Greek.