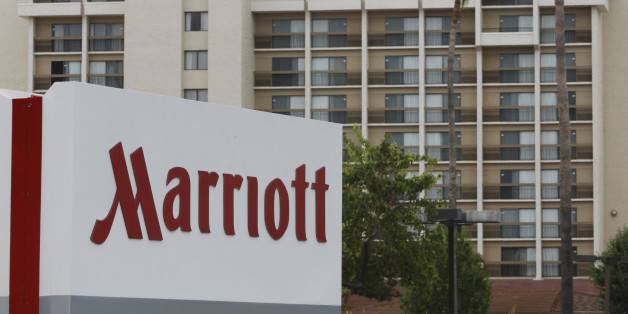 The era of carefree hotel booking is officially over.
Both Hilton and Marriott have announced plans to charge a fee of one night's stay to guests who fail to cancel before 11:59 p.m. on the day before their scheduled check-in, The New York Times reports.
Fees will go into effect on Jan. 1... and we're less than thrilled about them.
Currently, many hotels have fairly lax cancellation policies that even allow guests to cancel reservations up until 6 p.m. on the day of check-in. Under Marriott and Hilton's new policies, this will be no longer be the case.
Starting in the new year, Hilton guests will give a credit card number when they book a room and get hit with a fee if they fail to cancel in time, Hilton spokesperson Astrid Egerton-Vernon told The Huffington post in an email. Some hotels might have even more restrictive policies in place, she warns. How does this change from Hilton's current cancelation policy? "Current policies vary," Egerton-Vernon added. "By updating our guidelines we're providing our guests and owners with greater consistency and reliability."
Not every Marriott-franchised hotel is required to adopt the new cancellation policy, BoardingArea notes, but most are expected to do so, and those that don't want to must request permission first. Marriott did not respond to HuffPost's requests for comment.
The fees will prevent rooms from going empty for a night due to late cancellations when they could've instead be flipped and given to travelers looking for last-minute accommodations, hotel reps say.
But let's not forget they'll also pile more onto the billions that hotels already rake in from fees. U.S. hotels are reportedly projected to make $2.25 billion in fees and surcharges this year -- and these new cancellation rules will only add to that number.
Well, at least these new cancelation policies are not as bad as illegally blocking guests' Wi-Fi connections.
BEFORE YOU GO
PHOTO GALLERY
America's Best Family Hotels