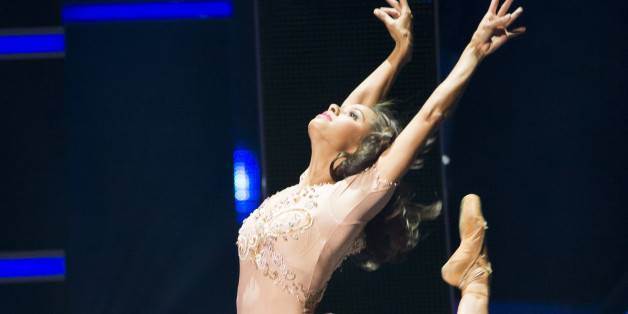 Reality television junkies with a passion for ballet that challenges the status quo, we know you're out there and we bear good news. Misty Copeland, the second black woman to become a soloist with the American Ballet Theatre and an all-around inspirational badass, is getting her own show on Oxygen.
In the show, prospectively titled "The Misty Copeland Project," Copeland serves as a guide to a group of talented and diverse amateur dancers trying to make it in New York. Think "America's Next Top Model" meets "Center Stage."
The description from the Hollywood Reporter reads:
As talented hopefuls from diverse backgrounds descend upon New York to take on the next major step in their ballet careers, who better to train and mentor them than Copeland -- the renowned ballerina who herself has defied all odds and shattered boundaries by overcoming the cultural pressures of professional ballet. Copeland, who began taking ballet lessons on the basketball court of a Boys & Girls Club at age 13 and was considered a prodigy, made history by becoming the second African-American female soloist in the prestigious American Ballet Theatre. With the opportunity of a lifetime and chance to catapult to the top of the ballet world, these aspiring dancers' passion, commitment and hard work will be center stage in Misty's Master Class.
Consider our DVRs set.
Oxygen's programming aims to appeal to young, multicultural women, using Copeland as a model for the evolving world of classical dance. "As an artist, Misty is changing the paradigm as to what a ballerina should look like," Washington Ballet Artistic Director Septime Webre told The Washington Post. "Her fierce yet delicate physicality, astonishing technique and her natural stage presence make her one of the most important female dancers in the U.S. today."
Oxygen hasn't yet released an air date for the show, but in the meantime, Copeland is slated to star as Odette/Odile in an April production of Swan Lake at the Kennedy Center.
Check out our list of ballet icons changing the face of dance today, here.
BEFORE YOU GO
PHOTO GALLERY
Misty Copeland