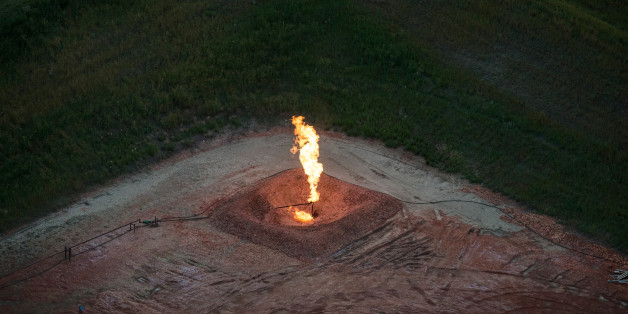 By Valerie Volcovici
WASHINGTON, Nov 20 (Reuters) - The Environmental Protection Agency can cut methane emissions from oil and gas production in half with new national standards, a move that could help the United States meet new pollution cutting targets pledged in a climate deal with China last week, a new report recommends.
The EPA is expected decide by the end of the fall whether to issue mandatory standards for reducing methane emissions from the oil and gas sector as a part of President Barack Obama's broad climate action plan.
Environmental groups the Clean Air Task Force, Natural Resources Defense Council and Sierra Club, have told the EPA that directly targeting methane rather than secondary volatile organic compounds, which the agency currently regulates, is more effective and can help the U.S. make steeper greenhouse gas emission cuts.
Methane warms the climate at least 80 times more than the same amount of carbon dioxide, the most prevalent greenhouse gas, over a 20-year period.
President Barack Obama last week set a target of reducing greenhouse gas emissions 26 to 28 percent below 2005 levels by 2025. The current goal is a 17 percent reduction by 2020.
"Issuing an oil and gas methane rule gives the Obama Administration the opportunity to meet its 2020 greenhouse gas reduction target," said Conrad Schneider, Advocacy Director for Clean Air Task Force.
Potential oil and gas methane rules would result in more than 100 million metric tons of greenhouse gas reductions, he said. They could cut up to 10 times more methane than current approaches.
Since the bulk of the sector's methane pollution comes from leaks and intentional venting, reductions can come from current technologies and better maintenance practices, the report said.
Available control measures include finding and fixing leaks, controlling emissions from compressors and other equipment, and stopping the venting of methane from wells.
The groups' proposed methane standards would apply to oil and gas infrastructure across the country, not just to equipment located in selected areas, as current EPA measures do.
"This is the single largest, most significant cost-effective climate action the administration has not yet taken," one of the report's co-authors David Doniger, climate director of the NRDC, told Reuters.
The full report can be found here:
http://catf.us/resources/publications/view/206 (Reporting By Valerie Volcovici; Editing by Bernard Orr)
BEFORE YOU GO
PHOTO GALLERY
Drilling And Fracking Photos