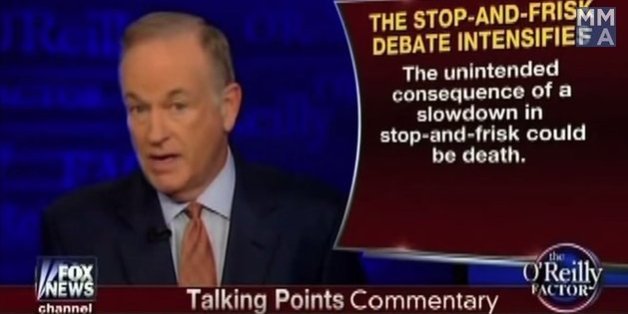 "More black Americans and more Hispanic Americans are going to die," said Fox News host Bill O'Reilly.
"It will end in buckets of blood on city streets," wrote The New York Post's Andrea Peyser.
"[T]he blood of new crime victims will be on their hands,' wrote the New York Post's editorial board. "Will the city once again become the Crime Capital of the World? Alas, so it seems."
"The body count will start rising," wrote The New York Daily News editorial board. "Wait till you start hearing about mushrooms and learn that the word refers to children who have been struck by stray bullets."
Such would be the nightmare situation in New York City, many in the media so ominously warned, if the city dared to reform the police department's practice of aggressively stopping, questioning, and frisking hundreds of thousands New Yorkers, mostly black and Latino. People would die. New York would slip back into the scary, bad old days.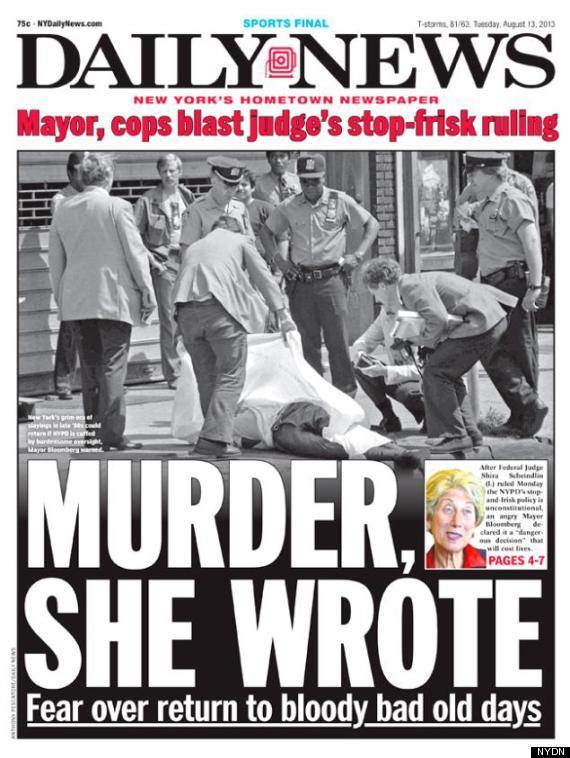 They were wrong.
This week -- as reported in the Daily News -- the city's crime rate hit a 20-year low.
And last week, NYPD Commissioner William Bratton said that there were 20 fewer murders so far this year than in the same period last year. In 2013, the city's homicide rate fell to a historic low.
It has all happened while the number of police stops in New York has also dropped dramatically.
Bill de Blasio was elected mayor in a landslide election last year, even after conservative media outlets raised alarm over his promise -- as well as the promises of other candidates -- to rein in the NYPD's use of stop and frisk. The tactic involves stopping and questioning people on the street, and in some instances, searching them. In 2011, 87 percent of those stopped were black or Latino, and about the same percentage were innocent of any crime, according to data from the New York Civil Liberties Union.
The city is on pace to have about 50,000 police stops this year, a 75 percent drop from the number of stops last year and a still more precipitous decline from the nearly 700,000 police stops in 2011.
"Under the liberal [Mayor Bill de Blasio], it was supposed to go back to Sodom and Gomorrah -- a return to the days of mayors Ed Koch and David Dinkins," Eric Boehlert, a senior fellow at media watchdog group Media Matters, told The Huffington Post of the media predictions. Media Matters took a look back this week at the hysteria surrounding the debate over stop and frisk in New York City. "If you look at the numbers, none of that true, in fact the opposite is true," he said.
Many employed the argument that de Blasio and his liberal counterparts wanted to end stop and frisk altogether. One Fox News host, for example, said this: "If a suspect someone is up to criminal activity, and is armed and dangerous, you bet I want them to go ahead and pat them down! It's not that intrusive!"
However, neither de Blasio nor critics of the program were calling for an end to cops stopping suspects. Instead, they wanted to end what they said were the thousands of unconstitutional stops of people who weren't suspects, most of whom were black or Latino. Last year, a federal judge ruled that the NYPD's use of stop and frisk was unconstitutional because cops were stopping people without reasonable suspicion. She said the practice amounted to a "policy of indirect racial profiling."
Media Matters' video details some of the statements made in the media in the wake of the judge's ruling:
"Stats aside, it's a fact that if you take stop and frisk away, more black Americans and more Hispanic Americans are going to die," said Bill O'Reilly. It was the same argument made by former Mayor Michael Bloomberg and his NYPD commissioner, Ray Kelly.
However, there has not been a proven correlation between curbing police stops and a higher murder rate. Over the last two years, for example, the number of police stops in New York City has dropped off significantly, while homicide rates have fallen. While the number of stops decreased from 2012 to 2011, the percentage of minorities murdered also dropped slightly. Eighty-nine percent of murder victims in 2011 were black or Latino. That number dropped to 86 percent in 2012.
Additionally, cities across the country without aggressive stop-and-frisk programs have also experienced big drops in their murder rates over the last 20 years.
Boehlert, of Media Mattters, told HuffPost that some conservative media outlets "don't care about trends and statistics." Concern over stop and frisk "plays into stereotypes that their viewers like," he said.
Fox News, The New York Post, and The New York Daily News did not respond to requests for comment. Andrea Peyser, the New York Post columnist, said she had "no comment."
"When the fear-mongers try to drive public policy to rationalize the disregard and violation of fundamental rights, no one wins," Donna Lieberman, executive director of the New York Civil Liberties Union, told HuffPost. "The good news is that their dire predictions have not only proven to be irresponsible, but wrong, and the decline in stop-and-frisk policy that routinely subjected people of color to constitutional violations has been accompanied, as predicted, with a decline in crime rates to historic lows."
Priscilla Gonzalez of Communities United for Police Reform (CPR), an advocacy group that spearheaded the stop-and-frisk reform campaign, told HuffPost in a statement, "We knew all along that fear-mongering to justify stop-and-frisk abuses and other discriminatory policing was a tactic that would backfire, and it clearly did."
"Increased public safety and constitutional policing go together," she added. "When police officers and local residents communicate more effectively, and all New Yorkers are treated with dignity and respect, our city is safer and better off."