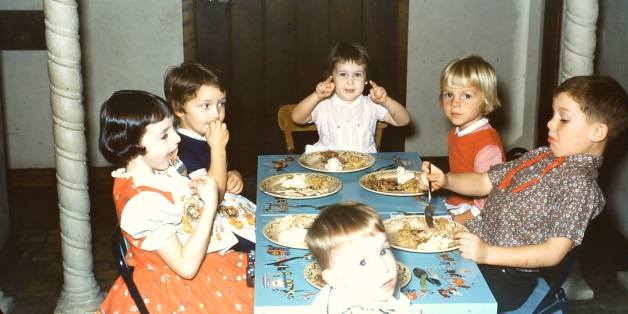 With the holiday of over-consumption right at our doorsteps, we asked our Huff/Post50 Facebook friends this question: What were you forced to eat for Thanksgiving as a kid that you are oh-so-happy you never have to eat again?
Many claimed to have abhorred those green bean casseroles made with a can of greasy fried onions and swimming in a sea of cream of mushroom soup, but we suspect that this emblematic dish still has some fans (most notably our own children who after tasting it three years ago now eschew the version made from scratch with organic green beans).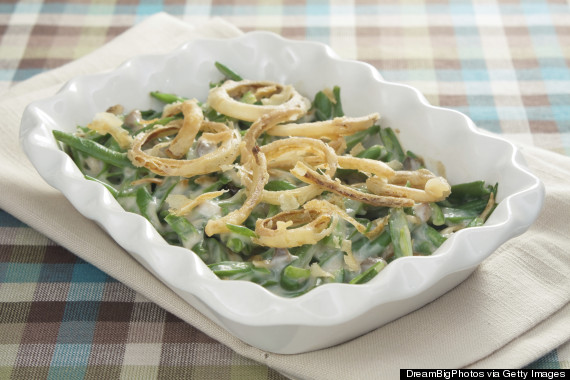 Stephanie Stassel-Bluestein of Los Angeles says the dish still shows up on her Thanksgiving table, although she personally won't touch it. "My brother-in-law grew up thinking his mom was the only one who made it," says Stassel-Bluestein. "She still does, bless her heart." After all, what is Thanksgiving if not a holiday of traditions? Don W. Powers says he ate green bean and mushroom soup casserole for years "out of respect for the effort put into it by family." Lloyd Middleton noted that he too ate green bean casserole when his wife made it, less so when he tried his own hand at cooking it. He does "love green beans though."
Brett Levy of Arizona says he's glad nobody serves him canned cranberry sauce anymore. And Mary Nell Burgeson Stapleton is glad to not be served any Jello molds. Same for Kit Burns Wheatley, who added "Jello, in any shape or form!" Natalye Mayher seriously couldn't stand "giblet/liver gravy." Kristine Armstrong Woodworth still cringes at the mention of glazed carrots. Becca Zimmerman-Balk said it was the "canned yams with brown sugar and marshmallows. Just ... ew." Deborah K. Boeddeker doesn't miss the "glorified rice...yuck!!" and Rickey Coscino is glad to not see any more oyster dressing. Serena Lynne damned the "yams with all that crazy marshmallow sweet yuck." She prefers her yams plain roasted.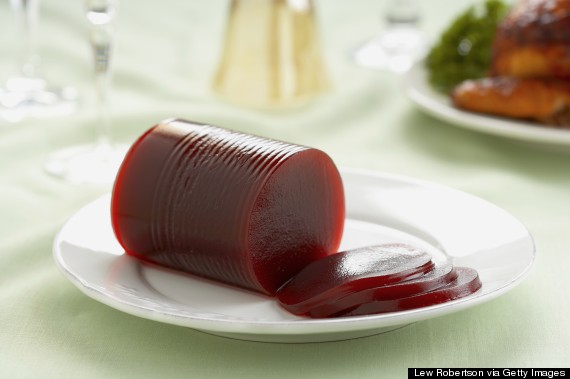 For Sunday Ankrom, it was the meal's centerpiece that she disliked the most: "Turkey -- I never liked it!!!!" A tough holiday for sure for non-turkey lovers. But the good news for Ankrom is that no one makes her eat it anymore.
But Mitzy Hoggatt Hileman summed up the feelings of a lot of readers when she said, "I miss my parents and grandparents so would gladly eat everything we use to have if I could sit at a Thanksgiving table with them again." Treacy Colbert noted that "When I was a kid I loathed the creamed onions and mincemeat pie, but like many of the people who have commented on this thread, I'd give my eyeteeth to have another Thanksgiving with all my family present. My parents and sister are gone." She said, "I would happily eat mincemeat and creamed onions if I could have them back again for one more Turkey Day. Blessings."
Rachel Cracken Herbig says she "loved everything that my mom and grandmother prepared. What I wouldn't give to have my entire family a round the Thanksgiving table for one last meal. Missing you all DEARLY!!! Thank you for the wonderful family memories (tear drop)." Nan Susan Hart noted how her "Mother worked so hard to make sure everything was just right. My sister and I helped. I remember the fragrance of the turkey as it cooked overnight. I miss everyone so much. We were blessed to be able to have a meal with loved ones. My sister and I are the only ones left."

BEFORE YOU GO
PHOTO GALLERY
Five Things You Should Never Eat (And What To Eat Instead)