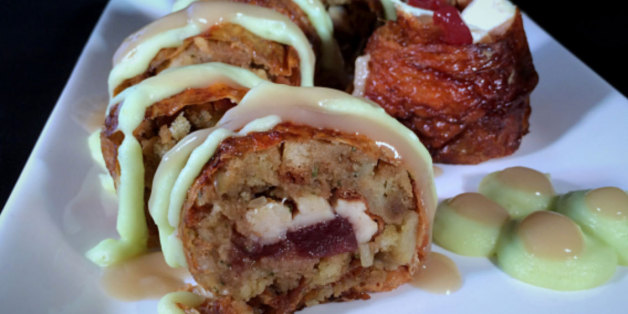 We all know Thanksgiving is a sacred day -- a day for feasting on some of our favorite foods, like mashed potatoes, gravy, stuffing and pie. The days after Thanksgiving might be event more glorious, thanks to Thanksgiving leftovers. We're thinking leftover turkey sandwiches, turkey soups and this insanely amazing Thanksgiving cake. Quite simply, it's hard to go wrong with Thanksgiving leftovers. You'd have to do something like turn your leftovers into Thanksgiving Sushi, or something...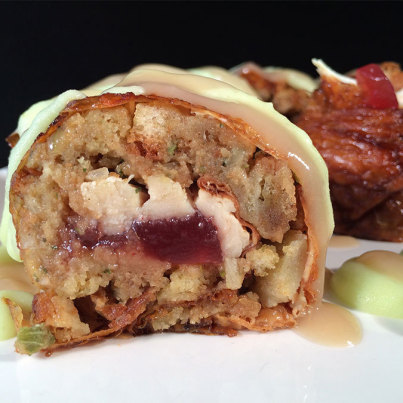 Leave it to the notorious Vulgar Chef -- who has brought you food monstrosities like the ramen taco and the 100 percent cheese whoopie pie -- to do the impossible and ruin Thanksgiving leftovers. According to the Vulgar Chef, Thanksgiving sandwiches are "amateur f*ckin hour." He'd rather "ruin an art that has been perfected over hundreds of years by skilled chefs," and since he has experience ruining sushi with creations like "ramen sushi" and "poutine sushi," it only stands to reason that Thanksgiving leftovers should be next... except that we HATE it and want to protect our leftovers from the sushi table at all costs. Stay away from our stuffing, Vulgar Chef!
If you're more curious than we are, the Vulgar Chef has directions on how to make your own Thanksgiving sushi. He tells you to first take crispy turkey skin (if your "grubby Grandfather didn't pick off every little slice... like a f*cking dick" -- his words, not ours!), and lay it out on a flat surface. Then use stuffing in place of "sh*tty f*cking white rice," patting it down on top of the skin. Next, place turkey and cranberry sauce on top of the stuffing and roll it all up. Finally, cover it gravy, obviously. Serve the sushi alongside wasabi-infused mashed potatoes and you've got yourself a legit Thanksgiving sushi meal. Actually, now it doesn't sound so bad.
Follow HuffPost's board Thanksgiving! on Pinterest.
Want to read more from HuffPost Taste? Follow us on Twitter, Facebook, Pinterest and Tumblr.