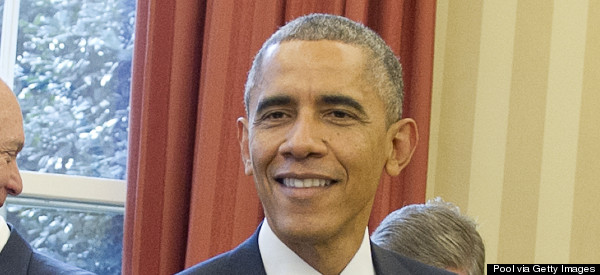 TOP STORIES
OBAMA TO ANNOUNCE EXECUTIVE ACTION ON IMMIGRATION TONIGHT "Up to four million undocumented immigrants who have lived in the United States for at least five years can apply for a program that protects them from deportation and allows those with no criminal record to work legally in the country, President Obama is to announce on Thursday, according to people briefed on his plans. An additional one million people will get protection from deportation through other parts of the president's plan to overhaul the nation's immigration enforcement system, including the expansion of an existing program for 'Dreamers,' young immigrants who came to the United States as children." The move sets up a power struggle with the GOP, and Republican governors are already threatening legal action. You can watch the president's speech live on CNN, Fox News, PBS and MSNBC at 8 p.m. ET tonight, but ABC, NBC, Fox and CBS are not expected to break from fall finale sweeps to air it. [NYT]

THREE INJURED, ONE DEAD IN FLORIDA STATE LIBRARY SHOOTING Campus police shot dead the shooter, who wounded three students when he opened fire at the Florida State University campus library last night. [WaPo]
SENATE: THREE MAJOR BANKS MANIPULATED COMMODITIES PRICES A Senate investigative report accused Goldman, JPMorgan and Morgan Stanley of using their involvement in the storing and moving of commodities such as aluminum to manipulate prices to their advantage. You can read the whole report here. [AP]
FEAR RAMPANT IN JERUSALEM AFTER SYNAGOGUE ATTACK "A heightened sense of fear and division gripped both Jews and Arabs of this city, a day after a deadly synagogue rampage tore the fabric of a tenuous coexistence that has held through war and peace. The fallout from Tuesday's killings was swift, with Israel implementing new security measures, some Jewish-owned companies firing Palestinian workers, tourism companies canceling city tours, and both sides voicing uneasiness over their city's future. Residents of Jerusalem said no other event in recent memory touched so raw a nerve, with schools, houses of worship and public spaces suddenly seeming threatening." [WSJ]
CIA CONTEMPLATES OVERHAUL Central Intelligence Agency Director John Brennan is evaluating potentially dividing the spying and analysis units of the agency in order to create hyper-specialized sections. [WaPo]
NORTH KOREA THREATENS NUCLEAR TEST The threat came in response to the United Nations' indictment of rampant crimes against humanity by the nation's leaders. [NYT]
MIKE NICHOLS HAS DIED Nichols, the legendary director of "The Graduate," was one of the few to win a Tony, an Emmy, an Oscar and a Grammy. He had been married to Diane Sawyer for the last 26 years. [AP]
AMAZON ROBOTS READY FOR HOLIDAY RUSH The robots transport stocked shelves to Amazon workers, cutting down the time workers need to spend finding items among the endless inventory. [WSJ]
WHAT'S BREWING
NBC OFFICIALLY DROPS COSBY SHOW The network decided to scrap the project starring Bill Cosby following the outpouring of sexual abuse allegations. TV Land has also pulled all reruns of "The Cosby Show." [AP]
YOU JUST CAN'T KILL VINYL Sales have jumped 60 percent from 2005 to 2013 in the U.S. [HuffPost]
GLASS SLIPPERS AND ALL Magic abounds in the first live-action "Cinderella" trailer, which features Lady Rose Lily James and Robb Stark Richard Madden as Cinderella and Prince Charming. [HuffPost]
MEET NORMAL BARBIE She has real-life proportions, and you can add cellulite and acne. [HuffPost]
BEYONCE SONG SNIPPETS LEAK Check out clips of Beyonce's two unreleased tracks. And yes, one is about cheating and features the lyric "took that ring off." Internet, speculate away. [Vulture]
MATT LAUER BEHIND 'TODAY' OUSTER Sources allege Matt Lauer had the new "The Today Show" showrunner fired after hearing of his plans to replace Savannah Guthrie with Hoda Kotb and remove Natalie Morales. [Page Six]
JETBLUE TO CHARGE FOR BAGS Legroom is also getting cut. The move comes as Delta and United are reducing their frequent flier programs. [WSJ]
A HISTORY OF GOVERNMENT-MANDATED STERILIZATION "'People around here know me for being smart, for knowing how to fix a lot of things,' he tells me the first time I meet him, not long before he shows me the paperwork that suggested he was unfit to father children. In 1948, when he was 14 years old, Willis Lynch was sterilized on the recommendation of North Carolina's Eugenics Board, a state-run organization that targeted thousands of men and women for vasectomies, hysterectomies, salpingectomies (removal of the fallopian tubes), ovariectomies (removal of the ovaries), and even castrations." [Longreads]
ON THE BLOG
ARIANNA HUFFINGTON: INTRODUCING HUFFPOST GREECE "As The Huffington Post has expanded around the world, I have used this space to introduce each of our new international editions. But none of the announcements I've made has had as much significance for me personally as what I have to share today: the launch of The Huffington Post in my native Greece. If I veer into some emotional territory (and spoiler alert: I will -- it's in my genes), it's because even now, surrounded by our wonderful team of editors in our office with a stunning view of the Parthenon, I'm overwhelmed by gratitude." [HuffPost]
BEFORE YOU GO
~ Bono broke his eye socket, his arm in six places, and shoulder blade in his bike accident this week. He is expected to make a full recovery after intensive therapy.
~ Thousands are calling for the cancellation of "19 Kids and Counting" due to the Duggars' anti-LGBT stance.
~ Forget O type -- there's such a thing as super-rare blood.
~ Kathy Griffin has been confirmed as Joan Rivers' "Fashion Police" replacement.
~ In case you had any lingering questions about the devolving culture of your favorite cheap transportation app, Uber calls its tracking system "God View."
~ Resting niceface -- it's a legitimate struggle.
~ Happy birthday, Joe Biden!
~ SNL's Cecily Strong is set to headline the White House Correspondents' Dinner this spring.
~ And Indina Menzel and Michael Buble's version of "Baby, It's Cold Outside" will melt the grinchy-est of hearts.
Send tips/quips/quotes/stories/photos/events/scoops to Lauren Weber at lauren.weber@huffingtonpost.com. Follow us on Twitter @LaurenWeberHP. And like what you're reading? Sign up here to get The Morning Email delivered to you.