When it comes to how we view failure, life and business strategist Tony Robbins says there's a more effective way of looking at it. Failure is a big thing to get over, but failure really just is a concept. If you look at the most successful people in the world, they've all failed at some point. According to Tony, our lives are controlled by the meaning we give things. You can have a situation happen to you where you look at it and say, "that's the end of my career," or you can say, "that's just the beginning." If you think it's the end, you're going to treat things very differently than if you think you're at the beginning of something. Failure is inevitable, but your greatest failures often give you the most insight. Think of failure as an experience, not a tattoo. You've got to say, it's time to move on, and learn from the experience without letting it become your entire story.
Get Tony's latest book, Master The Money Game: 7 Steps To Financial Freedom.
For more inspiring advice from Tony Robbins, view the slideshow below:
PHOTO GALLERY
Tony Robbins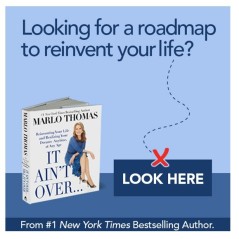 Add Marlo On Facebook:
Follow Marlo on Twitter:
Sign up to receive my email newsletter each week - It will keep you up-to-date on upcoming articles, Mondays with Marlo guests, videos, and more!