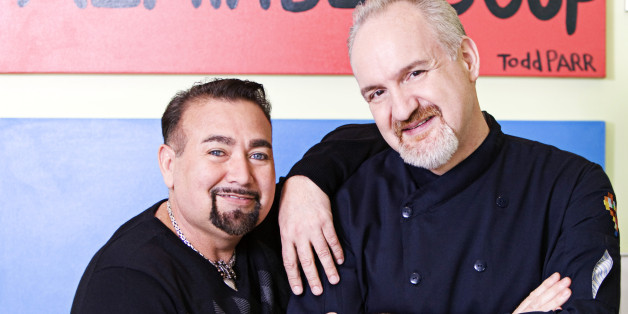 November is National Adoption Month and RaiseAChild.US is celebrating with our twice weekly "Let Love Define Family™" series installments in Huffington Post Gay Voices. Today, we are proud to introduce you to celebrity Chef Art Smith who, with his husband Jesus Salgueiro, recently built a family of their own by fostering and currently going through the steps to adopt four kids from the foster system.
I had a chance to speak with Chef Art Smith by phone from his home in Chicago about his amazing life journey so far. As we spoke, I became more and more impressed by Art's drive, insight and honesty. Read on. I think you will enjoy it too. –Rich Valenza, RaiseAChild.US CEO
Rich Valenza: Before we jump into the interview, I've just got to stop and say that you have this great presence and outgoing personality. Where did it come from? From your parents, your upbringing?
Art Smith: Well, I grew up in Florida near the Georgia border. I grew up in the rural south and I knew I was a bit different. I had to think of ways to keep from getting beaten up and bullied. To win my grandfather's favor I started taking piano lessons and later actually got a college scholarship in music. I would do things like join the FFA (Future Farmers of America) so I could see my favorite aunt in Kansas City and wear that stupid FFA blue jacket and pants with the big corncob logo! When you think of FFA you always think of who can grow the tallest corn or the biggest pig, but I could beat those farm boys in the piano competition. I think I was a creature of invention. I knew it was a way to get what I want and get where I needed to go.

Art shared with me that his parents were both tough, hardworking people. As a young man, his father worked as a page for a congressman, which gave him an appreciation for politics. Later his dad worked as a farmer while still holding down three jobs. Art's mother worked two jobs at the same time, including one as a tax collector.
Art: My brother turned out to be the kind of son my father wanted -- a boy who could drive a tractor. I knew I was different since I was four years old. Even though I had friends I always felt very different and, throughout school, I never felt a part of it. So I knew in order to move on, I had to do things.
Art's way out was though student politics in high school and junior college, discovering he had a knack for it. His campaign successes impressed his father.
Art: When I told my father I was going to be a chef, he said, "You're such a natural born politician, you're just so good at it, you need to be a politician!" I said, "Well, Daddy, I just don't want to be a regular chef. I am going to be a very special chef!"

I don't think he really got it until I cleverly figured out that if I could cook for the dean at Florida State University, somehow or other good things would happen. One day the dean said to me, "Well, you're not the best student, but you're a really great cook and you are great at parties and stuff. You know, the governor is in just the darnedest need of help over there. So why don't you go over there and help him."
Rich: You are talking about Florida Governor Bob Graham, right?
Art: Yes. When I was thrown in that whole circle with politicians, I was as happy as a pig in mud. I was 21 years old and I could cook -- I could look at a picture and totally make it. It was the early '80s. I had seen a copy of Martha Stewart's book Entertaining, and I was so impressed that I started mimicking all of her recipes when I would go work for the governor. So, one day the house manager said, "the First Lady needs your help with something because the chef was lackadaisical." They asked me to cook for this special guest and I said, "Well, who is the guest?" They said Mikhail Baryshnikov!
I love pretty. I love presentation. I love commanding an audience. I love dessert because it always gets people's attention, and it's the last thing so people always remember it. I also worked for Governor Graham and the First Lady and later for Governor Jeb Bush and the First Lady.
Jump to this year -- my husband and I had a very honorable and wonderful opportunity to go to Michelle Obama's birthday and it was great. At the party my husband, Jesus, pointed out President Clinton and former Secretary of State Hillary Clinton. Jesus and I walked over and I very sincerely thanked her for being invited to participate in this amazing program called the American Chef Corps that she created as First Lady. Because of it, I've been able to travel all over the world. So, there we are talking to the President and Mrs. Clinton and Jesus suddenly says to her, "I ain't coming back to this house until you're President!"
With that, Chef Smith let loose with a barreling laugh. It is easy to see that he loves and appreciates his husband.
Rich: Amazing! So I hear that you are friendly with Chicago Mayor Rahm Emanuel.
Art: When the mayor heard about the four kids Jesus and I are fostering, he and I had a conversation. He told me how moved he was to learn about our new family. So we continued talking and he ended up creating a day in Chicago to honor all parents -- parents of the same gender, single parents, just parents in general. Just to celebrate. It's called "Parents Equality Day." So we work together really well.
Art and Jesus' road to fostering four children came about in an unusual way. As an accomplished artist, Jesus was invited to do a show for a children's home called Arden Shore Children and Family Services. As Chicago's oldest children's family home, the organization has over 1,600 children in foster care. The head of the department, unbeknownst to Art, reached out to Jesus and asked him about adopting.
Art: So she said to him, "Have you ever thought of having children?" He said, "Art and I have chatted about it." She said, "Well I've got some for you."
Rich: Wow!
Art: [laughs] Now this all happened when I was out of town. So when Jesus called me he said, "How are you?" I said, "I'm good." Jesus said, "Well, I've got a surprise for you." I said, "Well, what's the surprise?" He said, "I can't tell you on the phone. I have to talk to you in person." I don't like surprises. I remember all those years that I worked with Oprah. Oprah never liked surprises either.
So, I came home and I said, "What's the surprise?" He said, "How would you like it to be a puppy?" I said, "Oh, are we going to get another puppy?!" He's like, "Nope." [a burst of laughter] So we talked and he told me that we would have to take a course to become foster-adoptive parents and it's about a month and a half…
Rich: Right.
Art: So we moved ahead. After receiving certification we met two sets of kids and the first set is the one we have now. I fell just instantaneously in love. Jesus was concerned they wouldn't call him Papi because they were a little older, but the first thing out of their mouths was Papi! They are beautiful Hispanic kids and I told Jesus that what I love about them is they look like we made them. Zuki is the youngest at 5, Zumi is 6, Brando is 8 and Angel is 11. They needed a home and we didn't want to see the children broken up. We wanted them to stay together.
Rich: That's really terrific. Let me ask you this question, kind of different than what we've been talking about. You are one year younger than I am. And a big concern we hear from people is, "am I too old to start a family?" Even though I started mine at 46 I had the opportunity to watch how my brother, my sister and my friends raised their kids. To observe what worked and what didn't work with the kids helped me as a father.
Art: Yes, I have concerns. I work out with a trainer everyday when I am in town because I am trying to stay healthy. I want to be around as long as possible with the kids. I hope that I will see them graduate from college and married and everything. I was having a little conversation with the boys today and I was saying, you know there will be days when you just have each other and it's important. That's why you should take care of each other.
Rich: Now let me ask you another question. How did you get from Florida to Chicago?
Art: I was in Florida developing some restaurants for a partner when I heard about a luxury train called the American European Express Train. After I finished working with the Florida governor I worked on some yachts, so I thought let's do trains. [laughs] So I got into that kind of business. I think what it was -- I felt in order to live my fullest potential, I had to change zip codes. I didn't feel that I was going to really get as much out of life as I needed to. Then I started moonlighting with Williams-Sonoma, where I met all these very fancy corporate wives of these big CEOs from companies like Rand McNally and all these different big Chicago corporate giants. And they liked me because I had the background of cooking for the governor in Florida. I was charming and I knew how to kiss babies, so they would hire me to do their dinner parties, which eventually led to being hired as a party chef by Martha Stewart, and then as a cook for Oprah Winfrey.
Rich: That's great. And then Oprah helped you get your cookbook published?
Art: Yes. And the magic of Oprah turned it to a New York Times bestseller.
Among his many television appearances and new restaurant openings, Chef Art Smith dedicates time to Common Threads, a nonprofit organization that he and his husband, artist Jesus Salgueiro, founded in 2003. Common Threads creates revolutionary programs that are helping to turn the tide of childhood obesity.
For National Adoption Month, RaiseAChild.US is hosting two free events for prospective foster and adoptive parents. We hope you will join us and learn about the advantages of building a family through fostering and adoption. Tuesday, December 2nd at The Garner House in Claremont, CA. Wednesday, December 3rd at The Montalbàn Theatre in Hollywood, CA. RSVP and information at www.RaiseAChild.US.
Rich Valenza is Founder and CEO of RaiseAChild.US, a national organization headquartered in Hollywood, California that encourages the LGBT community to build families through fostering and adopting to serve the needs of the 400,000 children in the U.S. foster care system. Since 2011, RaiseAChild.US has run media campaigns and events to educate prospective parents and the public, and has engaged more than 2,300 prospective parents. For information about how you can become a foster or fost/adopt parent, visit www.RaiseAChild.US.