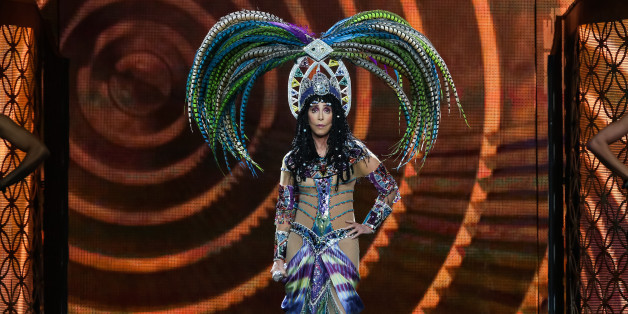 Cher has canceled the remaining 29 dates on her Dressed To Kill tour after developing a viral infection that's "affected her kidney function," according to a press release.
The singer postponed several dates in September when the infection was first spotted, but a month later they were rescheduled. Now the final leg of the tour, which first launched in March, has been nixed altogether.
Cher took to Twitter to express her disappointment, saying this and the death of director Mike Nichols, with whom she worked on the movie "Silkwood," have left her "devastated":
I'm SORRY I Couldn't B the 1 to tell you about postponing my tour.
I Tried SO HARD 2b Strong enough,but my Will couldn't force my Body time😭

— Cher (@cher) November 21, 2014
let's talk about it tomm. Between gut wrenching Sadness of not being Able 2go on stage,
sing,b Silly,& wear new Mackie's & Mike
Dying,I'm💔😭

— Cher (@cher) November 21, 2014
Im devastated (& NO fun 2b around)that I'm not packing all Blk & 1 P.Treacy 4 Bus😭WILL NEVER SAY AGAIN"Is It Show Nite?I'm
A-Wee-Bit Tired"

— Cher (@cher) November 21, 2014
Am Trying 2"Let go & Let God,"but I suck at Letting Go & Letting Anybody! This is a CRUSHING BLOW 4 ME & IM BEYOND SORRY💔4 DISSAPOINTING U😭

— Cher (@cher) November 21, 2014
"While her progress has been consistent, Cher's doctors have advised her to take more time to ensure a complete and total recovery," the release said.
The canceled dates are as follows:
Nov. 9, 2014: Lubbock, Texas - United Supermarkets Arena
Nov. 11, 2014: Austin, Texas - Frank Erwin Center
Nov. 13, 2014: Corpus Christi, Texas - American Bank Center
Nov. 15, 2014: Bossier City, Los Angeles - CenturyLink Center
Nov. 17, 2014: Pensacola, Florida - Pensacola Bay Center
Nov. 19, 2014: Charleston, South Carolina - North Charleston Coliseum
Nov. 23, 2014: Auburn Hills, Michigan - Palace of Auburn Hills
Dec. 2, 2014: Allentown, Pennsylvania - PPL Center
Dec. 4, 2014: Albany, New York - Times Union Center
Dec. 6, 2014: Washington D.C. - Verizon Center
Dec. 8, 2014: Uniondale, New York - Nassau Coliseum
Dec. 10, 2014: New York, New York - Madison Square Garden
Dec. 12, 2014: Newark, New Jersey - Prudential Center
Dec. 13, 2014: Hartford, Connecticut - XL Center
Dec. 15, 2014: New York, New York - Madison Square Garden
Jan. 5, 2015: Manchester, New Hampshire - Verizon Wireless Arena
Jan. 7, 2015: Boston, Massachusetts - TD Garden
Jan. 9, 2015: State College, Pennsylvania - Bryce Jordan Center
Jan. 11, 2015: Grand Rapids, Michigan - Van Andel Arena
Jan. 13, 2015: Toronto, Ontario - Air Canada Centre
Jan. 15, 2015: Ft Wayne, Indiana - Allen County War Memorial Coliseum
Jan. 17, 2015: Green Bay, Wisconsin - Resch Center
Jan. 19, 2015: Moline, Illinois - iWireless Center
Jan. 21, 2015: Chicago, Illinois - United Center
Jan. 23, 2015: Cincinnati, Ohio - US Bank Arena
Jan. 25, 2015: Sioux Falls, South Dakota - Denny Sanford Premier Center
Jan. 27, 2015: Omaha, Nebraska - CenturyLink Center
Jan. 29, 2015: Wichita, Kansas - INTRUST Bank Arena
Feb. 4, 2015: Fargo, North Dakota - Fargodome
BEFORE YOU GO
PHOTO GALLERY
Celebrity News & Photos