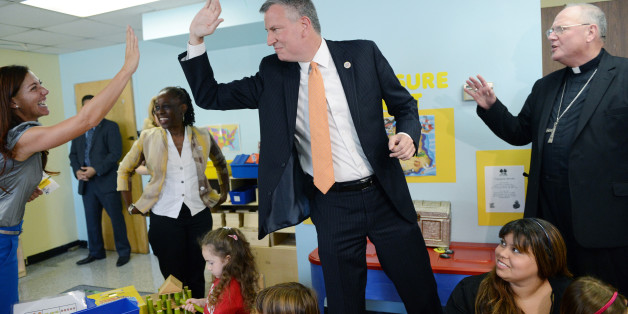 In a reversal of the way income inequality usually works, it's the very wealthy who appear to have less access to New York City's state-funded preschool centers during the program's first year.
Last week, the de Blasio administration announced that 53,230 children had successfully enrolled in the city's prekindergarten centers, exceeding Mayor Bill de Blasio's goal to enroll 53,000 students this year. Data provided exclusively to The Huffington Post from the mayor's office shows that most of these new pre-K seats are located in ZIP codes where the median household income is below the city's median income of $51,865.
However, this trend is unlikely to continue. Representatives for the city say they may have to focus more on wealthier communities next year.
During his 2013 campaign, de Blasio emphasized the need to fight income inequality in the city, and made the expansion of full-day early childhood education a central point of his plan. Once de Blasio secured $300 million in funding from the state in March to put a universal preschool plan in place, his administration began preparing pre-K centers to open their doors to thousands more students in September -- a process that was not without its obstacles.
While de Blasio's pre-K system is universal and not means-tested -- meaning that it is meant to serve all students, and not just those from lower-income households -- most of the new seats available this year are in ZIP codes where the median household income is relatively low.
There were about 20,000 students in the city attending full-day preschool programs last year, according to the mayor's office, meaning that the de Blasio administration has effectively added more than 30,000 new full-day seats. Next year, it hopes to have about 73,000 kids enrolled in total.
According to a HuffPost analysis of the seats added this year, about 22,000 of the new spots are in ZIP codes where the median household income is less than $51,865. About 2,800 of these seats are located in areas where the median household income is less than $26,000. A small minority of seats -- fewer than 350 -- are in neighborhoods where the median household income is over $103,000.
Next year, new seats will likely be added to more affluent neighborhoods, said Richard Buery, deputy mayor for strategic policy initiatives.
"A majority of the seats by far this year were created in lower-income neighborhoods. That's not surprising -- we built our prekindergarten system on top of the infrastructure that already existed," Buery told The Huffington Post. "[We'll be] going into communities where maybe the real estate costs are higher. We made a promise to the parents of those 4-year-olds too."
The following maps break down where the new preschool seats were added this year:
The numbers stand in contrast to a report released earlier this year by California researchers who claimed that most of New York's pre-K seats were being added in more affluent communities. The report specifically looked at the percentage increases in seats, not raw numbers. At the time, representatives for the de Blasio administration claimed the report was grossly inaccurate.
"Given how de Blasio had raised pre-K to fight inequality and talked about a 'tale of two cities,' given this progressive rhetoric in the campaign, we thought the bulk [of new preschool seats] would be in lower-income communities," Bruce Fuller, author of the report and a professor of education and public policy at the University of California, Berkeley, told The Huffington Post in October. "But the more we learned about the process, the more these findings made sense to us."
Fuller posited that most pre-K seats were being added in areas of the city where there was more physical space and where parents had the strongest applications. But a spokesman for de Blasio said exactly the opposite is true.
"In reality, the real challenge in our first year has been boosting the number of seats in many middle-class neighborhoods -- where district schools are at capacity and community-based centers are few," de Blasio spokesman Wiley Norvell said at the time. "That's something we're addressing as we work to provide pre-K for every 4-year-old next year."
Even with this new information, Fuller expressed skepticism about whether the new seats are actually helping students in the poorest neighborhoods, where students may need the most assistance.
"'Below the median' doesn't mean much in [a] New York City context. Are they in truly middle-income communities (earning about $52k/year)? Or are they in poor communities... where we know that pre-K WILL likely have an benefit for kids," wrote Fuller in an email this week.
"What's the policy goals of expanding pre-K in neighborhoods above the median?" he continued. "Is the mayor trying to boost the income of upper middle-class families? We have no evidence that pre-K gives their kids an extra boost. We DO know kids in East Harlem, Inwood, the Bronx will benefit. Why not focus scarce public dollars on the children who benefit most?"
But Buery told The Huffington Post that the goal is to offer preschool to all 4-year-olds in New York City, not just those from the most disadvantaged families.
"We know that every 4-year-old benefits from a high-quality educational experience. Frankly, whether you're from a poor family or working-class family or wealthy family, that statement is true," said Buery. "We felt like the way to build the system which would be protected and part of the NYC DNA was to make sure it was not something just for some of us, but for all of us."
BEFORE YOU GO
PHOTO GALLERY
Obama & Bush Together