Life and business strategist Tony Robbins has four simple steps that you can do each day to improve your chances of success. First, make sure you're doing something physical every day. If you're sitting at home on your couch with low energy levels, your chances at accomplishing something become very slim. Fear is physical, and so is courage. Next, read something that will inspire you, and teach you something. Devote 30 minutes of your day to reading something that will feed your mind. Find a great role model -- someone who has achieved what you'd like to accomplish. If they found a way to do something that you're interested in pursuing, there might be a pathway there that you can learn from. Last, do something that helps others, whether it's volunteering your time, or donating items to those in need. No matter how bad you think you have it, there's someone out there who has it worse than you do, so take the time to help the people who are less fortunate than you are.
Get Tony's latest book, Master The Money Game: 7 Steps To Financial Freedom.
For more inspiring advice from Tony Robbins, view the slideshow below:
PHOTO GALLERY
Tony Robbins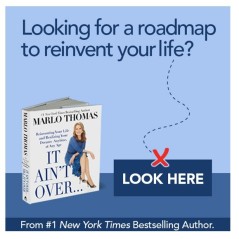 Add Marlo On Facebook:
Follow Marlo on Twitter:
Sign up to receive my email newsletter each week - It will keep you up-to-date on upcoming articles, Mondays with Marlo guests, videos, and more!