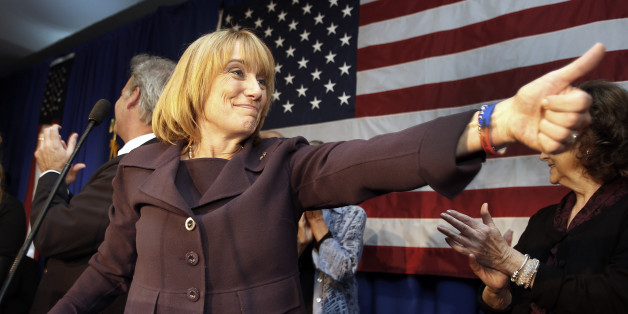 WASHINGTON -- The six Democratic governors who face GOP-controlled state legislatures may be slightly jealous of President Barack Obama's ability to do things like go out on his own and protect millions of undocumented immigrants from deportation.
This past election's Republican wave resulted in a historic number of state legislative chambers dominated by the GOP. That sweep may be problematic for Democratic governors in Missouri, Montana, New Hampshire, Pennsylvania, Virginia and West Virginia, who will be much more limited than Obama in the executive remedies they can take in the next two years of their terms.
In comparison, Republican governors in just four states -- Illinois, Maryland, Massachusetts and New Jersey -- will be forced to work with legislatures controlled by Democrats in 2015.
Gov. Terry McAuliffe, who was elected in 2013, campaigned on a promise to expand Medicaid for Virginia's residents. After failing to reach an agreement with the legislature over the program earlier this year, he announced a much more modest plan that would circumvent the legislature, while acknowledging his political options were limited.
Montana Gov. Steve Bullock similarly wants to expand Medicaid and proposed a plan this week that would extend coverage to 70,000 people in the state. Though the Democrat was able to advance some of his proposals in the last legislative session because of a coalition of Democrats and self-described "responsible Republicans," the coming session's Republican leadership skews more conservative, and some GOP state lawmakers have already expressed hostility toward his new proposal.
Incoming Republican state Senate President Debby Barrett, however, told HuffPost on Friday that she is open to his Medicaid proposal, though she hasn't had a chance to read it yet.
"If it's a Montana solution, I'm willing to look at it," she said.
In West Virginia, where Republicans will control both state legislative chambers for the first time since the Great Depression, Gov. Earl Ray Tomblin and GOP legislative leaders have spoken about their willingness to cooperate on economic issues, as the more conservative Democrats and Republicans in the legislature have done in the past.
"In effect, other than Republicans now controlling the committees, you've been seeing an effective conservative majority for the past couple of years," Neil Berch, an associate professor of political science at West Virginia University, told HuffPost. "There's going to be a push from the Republicans in the legislature on cutting taxes and spending but I don't anticipate huge changes other than pressure on the budget."
"The governor and the legislature used more of the state's so-called 'rainy day fund' to balance the budget in the last session than I think Republicans wanted, so [Tomblin] is not going to be able to go that route again," Berch added.
Though Maggie Hassan's re-election in New Hampshire was a rare bright spot in an otherwise terrible election for Democratic gubernatorial candidates, she now must work with a Republican-controlled legislature, after the GOP captured the majority in the state legislature. Hassan may have a foe in the House's incoming speaker, Bill O'Brien, a tea party favorite with a history of making controversial statements about the Affordable Care Act and college-age voters.
One of the nation's more acrimonious legislative-executive relationships is in Missouri, where Gov Jay Nixon issued a record number of vetoes of Republican-backed legislation in the last session. The GOP kept its supermajorities in both legislative chambers, where it has already displayed its muscle in recent years by overriding his vetoes on legislation involving gun rights and abortion restrictions.
"The implication is that the Republican-controlled legislature can basically pass whatever policies it wants to pass, dare Nixon to issue a veto, and vote to override if he does," said Jon Rogowski, an assistant professor of political science at Washington University in St. Louis.
And in Pennsylvania, the expectation is that incoming Gov. Tom Wolf, who routed Gov. Tom Corbett (R) earlier this month, will face similar challenges dealing with Republicans in the legislature. Wolf campaigned on promises to increase education funding, tax natural gas and make the wealthy pay higher taxes, but all of those aims could prove infeasible given the makeup of the legislature and the politics of the new Senate majority leader, who is considerably more conservative than his predecessor.
However, Wolf's fellow Democrats are optimistic that Republican legislators will be charmed by the new governor, who is expected to be more conciliatory than Corbett.
"Ironically, the Republican legislature is going to be looking forward to something they haven't had for four years -- a chief executive who is willing to sit down with them and listen," Jim Burn, the chairman of the Pennsylvania Democratic Party, told HuffPost. "There's obviously going to have to be give and take, what that give and take consists of remains to be seen."
"We're encouraged by the olive branches on both sides. Everybody's going into this with cautious optimism," he added.
BEFORE YOU GO
PHOTO GALLERY
2014 Election Results: Winners & Losers