Michael Sam capped off an incredible 2014 when he was named one of GQ's Men of the Year alongside Chris Pratt, Steve Carrell, Ansel Elgort and others.
Still, the 24-year-old, who became the first openly gay player to be drafted by the NFL but is currently without a team, reveals many personal struggles in the interview the accompanies the GQ cover.
Looking back on his history-making coming out, Sam tells GQ's Andrew Corsello, "If I had it my way, I never would have done it the way I did, never would have told it the way I did. But the recruiters knew, and reporters knew, and they talked to each other, and it got out."
Take a look at Sam's GQ cover, then scroll down to keep reading: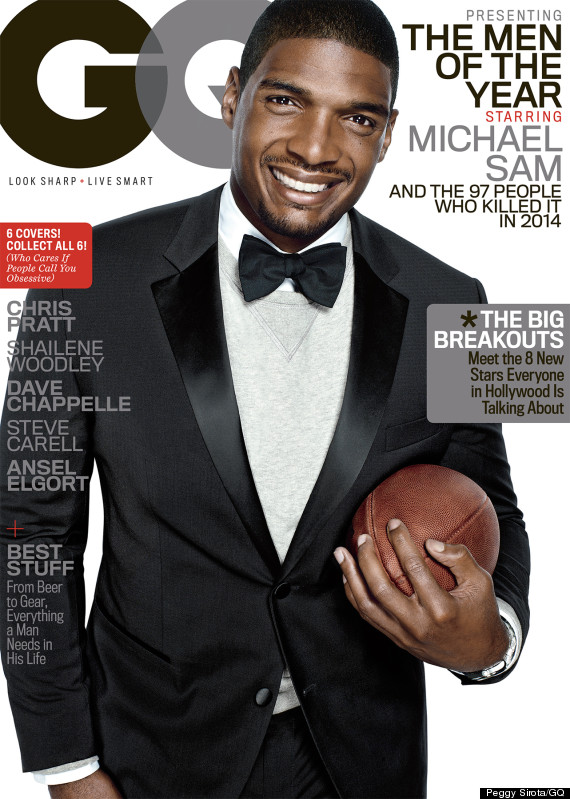 Noting that he "thought others would join me," he added, "I have no regrets ... It looks good to see me in the position I'm in now, because I can show the world how good I am and rise up the ranks. I'm at the bottom now. I can rise up, show I'm a football player. Not anything else. Just a football player."
Sam also takes the opportunity to open up about his troubled childhood in Texas.
"We called the cops on my brothers so many times I can't even count," he recalls. "They've both written me letters from prison. For them to dare to call themselves my brothers -- I can't live with that."
Responding to controversial media reports and statements made after the NFL drafted him, he adds, "I'll say this: I want to become a distraction! And what I mean is: by making big plays and doing good stuff on the field. Although nobody would print that, because that's not a story. Gotta keep bringing up the locker room situation because he's gay."
To read the full GQ interview with Michael Sam, head here.
BEFORE YOU GO
PHOTO GALLERY
LGBT Athletes