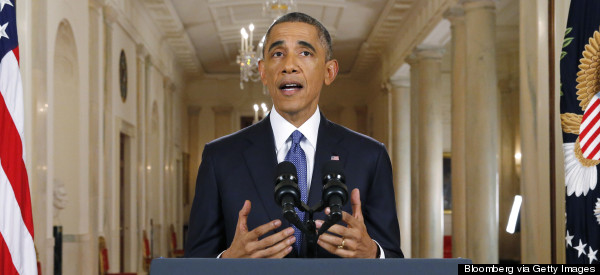 TOP STORIES
OBAMA ANNOUNCES IMMIGRATION ACTION "President Barack Obama announced plans Thursday evening to dramatically increase deportation relief for an estimated 4.4 million undocumented immigrants. The executive action will protect parents, as well as those who came to the U.S. as children and others with long-standing ties to the country, from being forced out of their homes." You can watch the president's speech in its entirety here. Republicans were quick to condemn the president's actions, and many GOP governors are contemplating legal action. And here's what all the potential 2016 candidates are saying about the move. [HuffPost]

DARREN WILSON CONTEMPLATING RESIGNATION Sources say the Ferguson police officer who shot and killed Michael Brown in August is in talks to resign from the force. Many believe his final decision will hinge on whether he is indicted. Brown's father released a video yesterday calling for peaceful protests in light of the upcoming verdict. [CNN]
EBOLA SPREAD SLOWING IN LIBERIA According to the CDC, the international response to the epidemic has slowed its spread, resulting in a decrease of infections in one of the most disease-ravaged countries. [NYT]
WHITE HOUSE CONTINUES TO STALL TORTURE REPORT "Sen. Jay Rockefeller (D-W.Va.), who served as intelligence committee chair before [Sen. Dianne Feinstein (D-CA)], was furious after the meeting, and accused the administration of deliberately stalling the report. 'It's being slow-walked to death. They're doing everything they can not to release it,' Rockefeller told HuffPost. 'It makes a lot of people who did really bad things look really bad, which is the only way not to repeat those mistakes in the future,' he continued. 'The public has to know about it. They don't want the public to know about it.'" [HuffPost]
U.S. SETS GOALS FOR IRANIAN NUCLEAR ACCORD The hope is to slow Iran's nuclear program enough that it would take them at least a year to build a nuclear bomb. [NYT]
UN: UKRAINE'S KILLINGS, DISPLACEMENTS ARE WAR CRIMES Despite an alleged ceasefire, 300 people have been killed in the last month. [AP]
CHINA HAS CAPABILITY TO SHUT DOWN U.S. POWER GRID The National Security Agency said yesterday that China and potentially one or two other countries could attack the U.S. through its infrastructure. [CNN]
TWO U.S. NAVY SHIPS COLLIDED IN THE GULF OF ADEN Apparently they'll be asking for new navigational systems for Christmas. [AP]
WHAT'S BREWING
ADRIAN PETERSON: 'I WON'T EVER USE A SWITCH AGAIN' "Peterson had expressed remorse for injuring his son and maintained he was disciplining him – with a 'switch' from a tree – the way he was disciplined as a child. If Peterson meets the court's requirements, no conviction will go on his record. But Peterson, a father of six children by six women, knows he faces a lifelong challenge to prove he's not an absentee parent, not a child abuser, not any of the demons he's been portrayed as since the incident." [USA Today]
MORE COSBY ALLEGATIONS SURFACE As more women come forward, Bill Cosby performed in the Bahamas, his first public show since the new allegations emerged. [AP]
NETFLIX TAKES UP 35% OF AMERICAN BANDWIDTH YouTube has a measly 14% in comparison. [Quartz]
HOW LONG IT'LL TAKE TO PAYOFF YOUR STUDENT DEBT, BY MAJOR Stay strong, ye Medieval Studies Majors. [NYT]
ALL YOUR FRIENDS ARE TALKING ABOUT 'SERIAL' That buzzy NPR podcast about a cold case isn't the only podcast worth getting addicted to. [HuffPost]
HEALTH DEVICES VULNERABLE TO OUTSIDE HACKERS Turns out that pacemaker plotline on "Homeland" was all too real. [The Atlantic]
QUIT SMOKING, TODAY "'Vape' may be the word of the year, but the days of smoking being in vogue have long passed. The habit, which can cause cancer, stroke and heart disease (not to mention it's expensive), may not be easy to kick but it's essential. Once you do, your health drastically begins to improve. Just in the first 24 hours without cigarettes, your chance for heart attack decreases." [HuffPost]
PASSWORDS: A GLIMPSE INTO THE SOUL "Howard Lutnick, the chief executive of Cantor Fitzgerald, one of the world's largest financial-services firms, still cries when he talks about it. Not long after the planes struck the twin towers, killing 658 of his co-workers and friends, including his brother, one of the first things on Lutnick's mind was passwords. This may seem callous, but it was not." [NYT]
ON THE BLOG
EVERY PARENTS' WORST NIGHTMARE "As you can imagine, when coroners and police showed up and words like "autopsy" invaded our day-to-day reality, things got very difficult for two people who had simply wanted to be loving parents … After months without answers or a blueprint of what to do next, Savannah's cause of death has finally been labeled: Sudden Unexplained Death in Childhood (SUDC). But this provides more questions than answers: What caused it? How can other parents prevent it? How can we stop it?" [HuffPost]
BEFORE YOU GO
~ How to redecorate after a break-up.
~ The first "Pitch Perfect 2" trailer reminds us all why that "Cups" song is so darn catchy.
~ This collection of Indian jewels would make Queen Elizabeth jealous.
~ Make sure your Graco stroller isn't one that can cause "fingertip amputations."
~ The hottest new place to throw a kid's birthday party? A beer garden.
~ The MoMA, as Death Star.
~ This photo project shows what the top 1% eat vs. what the regular folk consume in North Korea and Syria.
~ Does Venmo mean the end of cash?
~ And this ferret really, truly believed he could make the jump.
Send tips/quips/quotes/stories/photos/events/scoops to Lauren Weber at lauren.weber@huffingtonpost.com. Follow us on Twitter @LaurenWeberHP. And like what you're reading? Sign up here to get The Morning Email delivered to you.