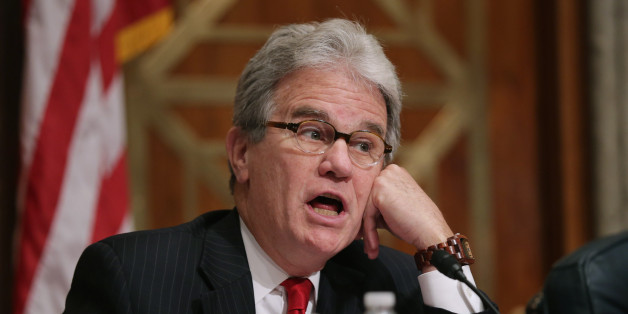 WASHINGTON -- Sen. Tom Coburn (R-Okla.), like many other Republicans in Congress, did not want President Barack Obama to announce deportation relief for millions of undocumented immigrants. But while most GOP critics merely expressed concerns about border security and presidential overreach, Coburn made a darker prediction: There would be rioting in the streets.
"The country's going to go nuts, because they're going to see it as a move outside the authority of the president, and it's going to be a very serious situation," Coburn told USA Today. "You're going to see -- hopefully not -- but you could see instances of anarchy. ... You could see violence."
Despite this warning, Obama went ahead, announcing in a prime-time address Thursday that he would use his executive authority to help more than 4 million undocumented immigrants come out of the shadows and live in the United States legally.
Witness the carnage that followed, just as Coburn predicted:
Beverly Hills
Chicago
Denver
Detroit
Fort Worth
Miami
New York
San Francisco
Washington, D.C.
What do your streets look like now that Obama has made his immigration announcement? Tweet your photos with the hashtag #CoburnRiots and we'll check them out.
Coburn's office did not return a request for comment.
There was at least one small howl of protest, according to the Argus Leader, although it came before Obama spoke. When Darin McDonnel of South Dakota heard about the planned executive action, he went outside -- in the 19-degree Sioux Falls weather -- and held up a sign reading, "Obama is mocking our Constitution."
"I'm out here because I love this country," McDonnel said, "and I think our Forefathers were brilliant."
Johanna Barr, Kim Bellware, Jennifer Bendery, Janie Campbell, Matt Ferner, Ryan Grenoble, Kate Abbey-Lambertz, Grace Maalouf and Nico Pitney contributed reporting.
UPDATE: 5:10 p.m. -- Some #CoburnRiots reader submissions from across the country:
#CoburnRiots in Central WI pic.twitter.com/zRYYFf15uq

— David Shorr (@David_Shorr) November 21, 2014
@aterkel Red State Utah ravaged. #CoburnRiots pic.twitter.com/Io5o7H2ylt

— Kelly (@KellyAnnCosgrov) November 21, 2014
@HuffingtonPost #CoburnRiots things are really getting of control here in Boston pic.twitter.com/6FWhITX7LD

— Conor K (@MConorK) November 21, 2014
Yep, those #CoburnRiots are causing havoc in my neighborhood here in #Boulder. pic.twitter.com/oTvgP9HwGp

— Melanie (@MelanieKV) November 21, 2014
#CoburnRiots #CarsonCity #NV pic.twitter.com/YuoOTgn1LC

— Frankie (@FrankieeNV) November 21, 2014
Terror in the halls of Congress #CoburnRiots pic.twitter.com/NvSzUkkiWf

— Mike Darner (@mikedarner) November 21, 2014
@aterkel #CoburnRiots #NorCal #RubbleRemains pic.twitter.com/3dzk4L4hem

— YubaNet (@YubaNet) November 21, 2014
@aterkel @HuffingtonPost #CoburnRiots in Cary, NC. Scary stuff. Hide your family. #Anarchy pic.twitter.com/2omWyWHcHc

— Fantasy Fumblies (@FantasyFumblies) November 21, 2014
@Aterkel Reporting from ruins of Palm Beach Cty, Fl! Will wait until riots subside 2 go outdoors! #CoburnRiots pic.twitter.com/ZOSfFSXV0B

— SM (@nynjnvfl) November 21, 2014
It's a burning hellscape out of Dante in Lincoln, Neb. Why didn't we listen to @TomCoburn? #coburnriots pic.twitter.com/jd0Dinc9BB

— Adam Branting (@jaroot99) November 21, 2014
Want more updates from Amanda? Sign up for her newsletter, Piping Hot Truth.
BEFORE YOU GO
PHOTO GALLERY
Overwhelmed Border Patrol