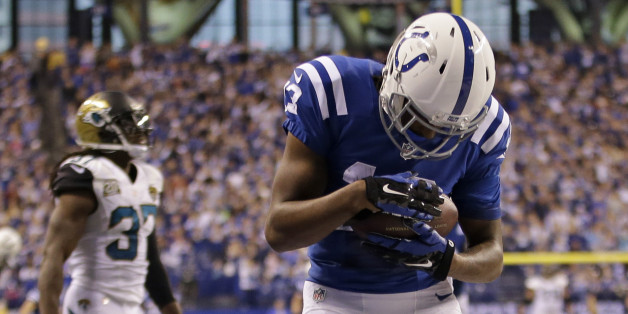 "Rockabye football, in the end zone..."
That's the lullaby Indianapolis Colts wide receiver and new dad T.Y. Hilton is likely to sing to his daughter, who was born just hours before his game Sunday against the Jacksonville Jaguars. Hilton missed pregame warmups to spend some time with his wife, Shantrell, and their newborn child, The Indianapolis Star reported.
Then Hilton headed off to work, telling his agent he wanted to get his daughter a touchdown because "it's the right thing to do."
In the middle of the third quarter, Hilton made a 73-yard touchdown catch, then celebrated by cradling the ball and gently rocking it back and forth as if it were an infant:
Hilton followed up the end zone tribute with a teary and touchingly emotional postgame interview. "Very emotional game for me ... Just came out here and gave it my all," he told CBS Sports, fighting back tears. "I've been there with my baby girl the whole time. I just want to give it my all and play this game for her."
"It's very refreshing to see a young man display his emotions," CBS analyst Bill Cowher remarked at the end of the interview. "One of the greatest moments in one man's life is to be able to watch your baby be born, and he was able to do that and to also go out and work a job he loves. Kudos, T.Y. Hilton."
Congrats, Hilton!
BEFORE YOU GO
PHOTO GALLERY
Hilarious Touchdown Celebrations