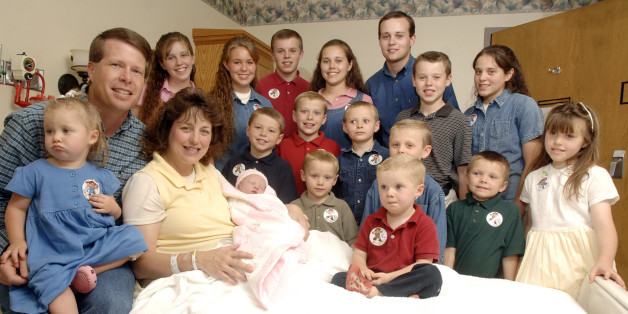 Fans of TLC's hit reality show "19 Kids And Counting" are coming to the Duggar family's aid following a viral petition calling for the show's cancellation.
The initial Change.org petition, which asked TLC to cancel the show due to the family's anti-LGBT activism and statements, has already surpassed the intended goal of 100,000 signatures, having cracked 163,000 at the time of publication of this story. The new iPetition counter-response claims that "the Duggar Family is under attack from anti-marriage advocates for standing for traditional marriage," and has just over 56,000 signatures at the time of this post. Another petition supporting the family, located here, had over 183,000 signatures when this story was published.
The controversy is a long-time coming, as the Duggar family has exhibited anti-LGBT sentiment at different points throughout the course of their time in the spotlight. In August, Michelle Duggar was tapped to record a robocall against an Arkansas anti-discrimination housing law that specifically affected the transgender community. The reality star was quoted as saying that transgender individuals are "males with past child predator convictions that claim they are female" and opposed letting transgender people use the bathroom that corresponds with their gender identity.
More recently, the Duggars enraged the lesbian, gay, bisexual and transgender (LGBT) community when the couple posted a photo of themselves kissing and encouraged other married couples to follow suit. When John Becker of LGBT blog The Bilerico Project posted a photo of him kissing his husband -- accompanied with a message about marriage equality -- the photo was reportedly taken down and Becker was banned from the Duggar's page.
TLC has not responded to requests from The Huffington Post for comment about the petitions.
BEFORE YOU GO
PHOTO GALLERY
Anti-Gay Celebrity Statements