The primetime announcement of the grand jury decision in the Ferguson shooting case had some TV stations and viewers on edge -- but not only about the decision, in which officer Darren Wilson was not indicted, or the aftermath.
No, some appeared more concerned with the impact the coverage would have on their evening television as sweeps episodes of "Dancing With The Stars" and "The Voice" were interrupted by special reports.
WTVC NewsChannel 9 in Chattanooga sought to reassure its viewers on Twitter: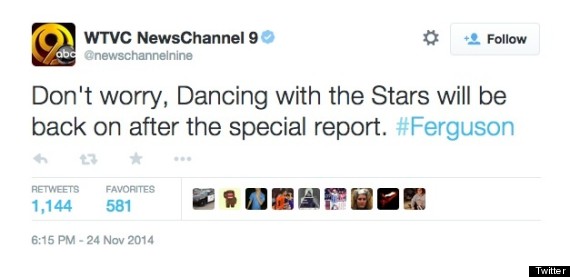 That sparked an immediate backlash of replies and retweets, which led the station to delete the message and apologize:
We've removed our very poorly worded tweet from earlier to stop the bad signal from spreading. Please accept our sincerest apologies.

— WTVC NewsChannel 9 (@newschannelnine) November 25, 2014
.@lovesickglee yes - we were just anticipating people complaining. but we handled in a completely lunkheaded way. we're sorry.

— WTVC NewsChannel 9 (@newschannelnine) November 25, 2014
Other stations also tweeted about the programming disruption:
*PROGRAMMING NOTE: @ABC to air special report at 9pm for Ferguson decision, #DWTS will continue right after: http://t.co/42xiXJPglt

— ABC11 EyewitnessNews (@ABC11_WTVD) November 25, 2014
Depending on time zone and location, some viewers saw full coverage of the announcement while others saw abbreviated coverage, according to Deadline. That led to some viewers seeing images such as this as the story unfolded:
Oops. As the grand jury decides, this is now what abc news is showing. #Ferguson pic.twitter.com/OZnagpd0rq

— Adam B. Ellick (@aellick) November 25, 2014
For those wondering, November sweeps ends on Wednesday.
BEFORE YOU GO
PHOTO GALLERY
Ferguson Protests Around the Country