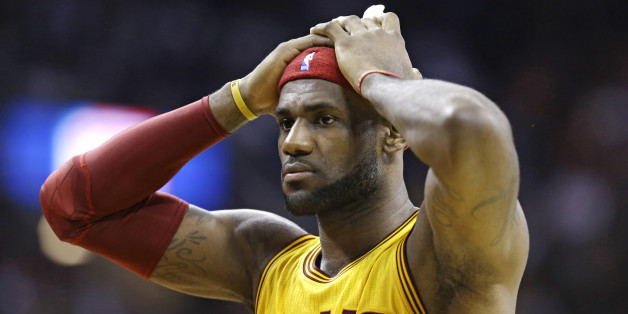 As the Cleveland Cavaliers continue to suffer loss after loss, LeBron James says that he needs to play harder.
According to Cleveland.com, James said before Saturday's match-up between the Cavaliers and the Toronto Raptors that "he would change how he approaches each game," pushing himself to play more aggressively.
"Well I can sustain my effort as well, as close to 48 minutes as possible, and the guys that feed off me," James said, adding that the team is not playing "consistently as hard as we can for 48 minutes."
"When you're not very good, you cannot consistently just have break downs and think you can make up for it later in the game," he said.
The Cavs went on to lose to the Raptors Saturday, 110-93, cementing a four-game losing streak for the 5-7 team.
After the loss, James — who said earlier this month that he started the season "a little passive" — said that the Cavs are a "very fragile team right now."
"We were a fragile team from the beginning. Any little adversity that hits us, we just shell up," he said, per Cleveland.com.
The Cavaliers will play the Orlando Magic (6-9) at home Monday. According to Fox Sports, if the Cavs lose, it'll be the first five-game losing streak for James since 2011.
BEFORE YOU GO
PHOTO GALLERY
Evolution Of LeBron Through Commercials