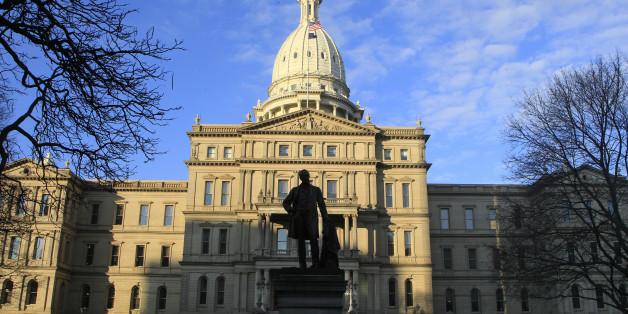 A proposal to change how Michigan awards Electoral College votes has drawn criticism from Democrats and voting rights groups and, as one elections expert put it, could destroy Michigan voters' faith in the political system and make a "mockery" of the state.
Michigan currently awards all its electoral votes to the candidate who wins the state's popular vote -- as do all other states except Nebraska and Maine. But legislation introduced earlier this month would proportionally allocate Michigan's 16 electoral votes, based on how large a percentage of the popular vote a candidate receives. This may split electoral votes between the two candidates.
"[The plan] would likely bring national media scrutiny and mockery of Michigan's 'strange' electoral procedures," Matt Grossmann, an associate professor of political science at Michigan State University, said in testimony during a House committee hearing on the bill last week.
In a state that has a Republican-controlled legislature but has chosen Democratic presidential candidates since 1992, the GOP would likely stand to benefit from the bill more than Democrats. "Right now, it just looks like a sort of transparent political effort by the Republicans that is being sold disingenuously," Grossmann told The Huffington Post.
The proposal, introduced by Michigan state Rep. Pete Lund (R-Shelby Township) on Nov. 13, would award the winner of the popular vote half the electoral votes and one additional vote. Then, for each 1.5 percent the winner earns above 50 percent of the popular vote, he or she would receive another electoral vote.
In 2012, President Barack Obama won Michigan with 54 percent of the vote. Under Lund's plan, he would have received 12 electoral votes instead of 16, and the remaining four would have gone to Republican presidential candidate Mitt Romney. Nationally, Obama received 332 to Romney's 206 votes.
"It seems to me that the Republicans are throwing up the white flag, saying they can never win Michigan, and taking what they can get instead of competing for all 16 electoral votes." Rep. Andy Schor (D-Lansing) said of the bill during a hearing in the House Elections and Ethics Committee last week.
Lund framed his argument for the bill in terms of Michigan's importance in presidential campaigns.
"This proposal would make Michigan an important state for these candidates to visit, forcing them to speak on issues affecting our state, and more importantly, create policies that benefit all Michigan residents," Lund said in a statement released Nov. 13.
Critics of the bill, however, said it would have the opposite effect because fewer electoral votes would be at stake for any candidate.
But Grossmann said there's no evidence that the changes would have much of an effect either way on Michigan's importance to the candidates. Michigan received the 10th-highest political ad spending in the 2012 presidential elections, an indication that the state is already considered fairly important to politicians, Grossman noted.
Instead, he believes the most drastic effect of Lund's proposal might instead be on voter trust in the political system.
"Voters are cynical that politicians are supporting partisan ends even though they're claiming to have broader policy goals," Grossmann told HuffPost. "Usually, I don't share that skepticism, but this is such an obvious case of that."
Grossman added that with each 1.5 percent of the vote making a difference, lawsuits, recounts and voter irregularity claims could also increase.
"People definitely react to electoral changes by thinking, 'Ok they're rigging it, they're not hearing my voice.' Then it sort of lets conspiracy theories run wild," he said.
Though Lund's plan is controversial, he's far from the only politician to question the current Electoral College system, both in Michigan and elsewhere. Pennsylvania is considering its own plan to divide electoral votes, and the issue has also been raised in Wisconsin and Ohio, according to the Detroit Free Press.
Nebraska, with its five Electoral College votes, implemented a proportional vote system in 1996; Maine has four electoral votes and started its proportional system in 1972. Both states allocate one electoral vote to the winning candidate of each congressional district and the remaining two to the winner of the popular vote. Only once has this resulted in a split allocation of votes: In 2008, Nebraska awarded one electoral vote to Obama and the rest to Republican challenger Sen. John McCain.
While there isn't a consensus on the method of reform, there is major national support for eliminating the Electoral College altogether. A 2013 Gallup poll showed 63 percent of Americans, with similar numbers of Republicans and Democrats, would rather elect the president by popular vote. Meanwhile, one reform movement that would base electoral vote distribution on the winner of the popular vote nationwide has been gaining traction, especially among Democratic-leaning states.
Michigan Governor Rick Snyder (R) told MLive that while he saw "merit" in changing his state's election system down the line, he believes it shouldn't be considered until the next U.S. census.
The state's House Elections and Ethics Committee is expected to take up Lund's proposal again in early December.
BEFORE YOU GO
PHOTO GALLERY
GOP Logic: The 9 New Laws that Explain Everything