A Chicago-based restaurant chain appears to have shifted into damage control this week following a report that one of its employees was fired after asking for time off in order to undergo surgery as part of his cancer treatment.
In an interview with NBC Chicago that first aired Saturday, 19-year-old Jonathan Larson, a delivery driver at Rosebud Restaurants' location in Naperville, Illinois, claimed he was fired by his employer after he told the restaurant he would need to take six weeks off from his job for back surgery related to his diagnosis with cancer of the brain and spine.
"[My manager] said, 'No, by that time I'll already have another driver hired. Just leave, I have to make some phone calls," Larson told NBC. "I'm really disappointed and saddened by it. It's not something I can help."
The story was shared widely and prompted a backlash, including many individuals leaving negative comments on Rosebud Restaurants' Facebook page.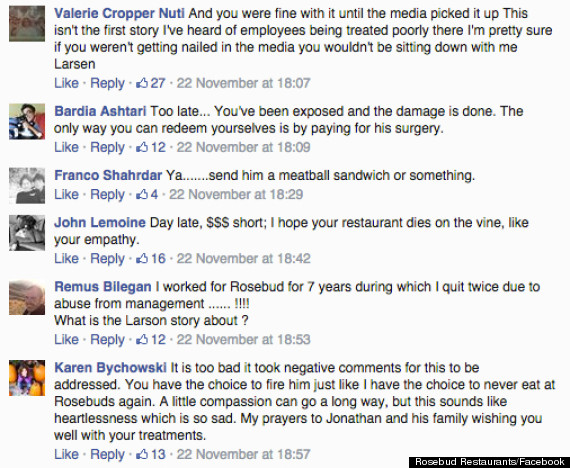 On Saturday, the restaurant chain posted a statement acknowledging the Larson report, stating "we want you to know that we're listening and since learning of the incident have acted swiftly to better understand what transpired." The restaurant also said it had spoken with Larson about the incident.
In a second statement posted Sunday, the restaurant indicated it had spoken with Larson's family and confirmed that his job would be waiting for him after his surgery. In a comment posted in response to the statement, Larson confirmed he would be meeting with restaurant chain leadership and the manager who fired him "to try and resolve the situation."
"Rosebud always strives to treat its employees and customers as family but, in this case, we did not live up to our own expectations," the statement read. "Like so many, we have been inspired by Jon Larson's personal strength and perseverance in his battle to beat cancer. We hope Mr. Larson makes a full and speedy recovery and returns to his job with Rosebud soon."
In a comment on the Facebook page of the Naperville restaurant on Sunday, Debbie Sitko, who identified herself as Larson's mother, said she was initially "angry along with disappointed and sad for my son" but that she is "please[d] with the way Rosebud is handling the situation at this time."
Larson and Sitko did not respond to requests for comment. Rosebud Restaurants declined to comment for this story, but stood by the statements the company made on its Facebook page.
Several laws protect employees from being fired under similar circumstances, such as the Family and Medical Leave Act; the Americans with Disabilities Act; and the Illinois Human Rights Act. The Huffington Post has been unable to confirm specifics of Larson's situation that would have determined which law was most applicable.
Rosebud Restaurants operates 10 restaurants in and near Chicago. The company was sued last year by the Equal Employment Opportunity Commission for allegedly refusing to employ African-Americans in its restaurants on account of their race. Joseph Taylor, the company's former CEO, filed a separate lawsuit this year alleging that he was fired because he suggested "there may be some merit" to the EEOC lawsuit.