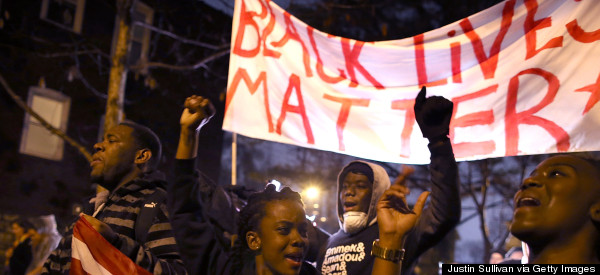 TOP STORIES
AS FERGUSON GRAND JURY RECONVENES, UNCERTAINTY REIGNS "With boarded-up shops, police barricades and eerily quiet streets, it was as if people were preparing for a terrible blizzard and Y2K, all at once. A weekend when many had expected a decision by the grand jury became instead a weekend of uncertainty, with no word from the courthouse and confusion over how individuals and institutions should respond, or not respond, when nothing had really happened yet." If the grand jurors come to a decision today on whether or not Officer Darren Wilson will be indicted in the shooting death of Michael Brown, the news will be released immediately. Reports vary on whether the evidence will be disclosed after the grand jury proceedings. And major news anchors have met with Wilson in the hopes of securing an interview. [NYT]

U.S. WANTS TO EXTEND IRAN NUCLEAR TALKS Since officials don't believe a consensus can be reached by today's deadline, the U.S. and its allies are suggesting an extension. Many U.S. lawmakers are pushing back, asking what could be done in a few months that couldn't have been accomplished in the past year. [Reuters ]
HIGHLY SOPHISTICATED SURVEILLANCE MALWARE DETECTED Symatec believes the extensive malware code, which can be used to spy on telecommunications or internet companies, was developed by the U.S., China, or Israel. [Re/code]
SUPREME COURT TO EVALUATE SOCIAL MEDIA AND FREE SPEECH The case examines whether threats posted on Facebook have the same legitimacy as ones made through other means. [WaPo]
FATAL NYC POLICE SHOOTING STILL A MYSTERY "The shooting focused scrutiny on everyday tactics used by officers in housing projects, where rooting out entrenched violence has been a departmental priority, even as basic questions about the death remained unanswered: Had Officer Liang, surprised by a figure in the shadows below, reflexively squeezed the trigger, or had he merely lost his grip as he opened the door to the stairs?" And in Cleveland, an officer fatally shot a twelve-year-old holding a toy gun. [NYT]
SUICIDE BOMBER KILLS OVER 45 AT AFGHAN VOLLEYBALL TOURNAMENT It's rare for a lone suicide bombing to kill such a high number of people in Afghanistan. [CNN]
THE PHOTO THAT SUMS UP IRAN'S INFLUENCE IN THE FIGHT AGAINST ISIS "The Iranian influence has only grown more visible now that the U.S. is embroiled in Iraq again. Control of the critical Interior Ministry was awarded last month to a representative of the Badr militia, one of the top Iranian proxies in Iraq. The picture above shows Badr's leader, Hadi al-Amiri, chuckling with General Qassem Suleimani, the commander of Iran's internationally oriented paramilitary Quds Force. The publication of the photograph is a signal from Iran of just how powerful it is in Iraq, a high-ranking U.S. official said. Iran is embracing the Iraqi government and the Shiite militias." [HuffPost]
RUSSIA IS TESTING FINLAND'S NERVE As Russian fighter jets continue to enter Finnish airspace, Finland is considering aligning itself with NATO. You can read the excerpts of Finnish President Sauli Niinisto and Finnish Foreign Minister Erkki Tuomioja's interviews here. [WaPo]
FAA RULES COMING FOR DRONES The Federal Aviation Administration is expected to require operator licenses and limit flights to daylight hours. [WSJ]
WHAT'S BREWING
FORMER NBC EMPLOYEE ALLEGES HE HELPED PAY WOMEN OFF FOR COSBY Frank Scotti detailed years spent standing guard outside Cosby's room and paying off eight women thousands of dollars to keep quiet. [New York Daily News]
TAYLOR, J. LO RULE AMERICAN MUSIC AWARDS Who could forget Taylor Swift's dancing, the crazy performance of "Black Space" or J. Lo's routine featuring her famous asset? Here are all the red carpet arrivals, along with the list of the winners, because some awards were handed out, too.
KATY PERRY CONFIRMED FOR SUPER BOWL HALFTIME Wonder if this will only add fuel to the Taylor Swift feud … [HuffPost]
BUDWEISER IS DITCHING THE CLYDESDALES In pursuit of the ever-elusive 21 to 27-year-old market, the beer company is focusing on more Jay Z and less family-friendly ads. [WSJ]
ANISTON: KARDASHIAN'S A COPYCAT Jennifer was quick to point out she originated the booty shot on her infamous 1996 cover of Rolling Stone. [Vanity Fair]
UNCLE JACK PUSHING YOUR BUTTONS THIS THANKSGIVING? Here's how to resist WWIII at the dinner table this holiday season. [HuffPost]
QUEEN B SHE IS Beyonce dropped a surprise music video for "7/11" featuring her hanging out with her gang. [HuffPost]
GET THESE THINGS OUT OF YOUR BED That includes the latest page turner. Put down the Gillian Flynn books, people. [HuffPost]
ON THE BLOG
HAVE A GREAT HOLIDAY WITHOUT ADDING TO YOUR OWN STUFFING "Even if you love the holidays, you can get stressed thinking about how to avoid gaining weight when you are faced with one food temptation after another. Holiday time is usually a busier time too, and that can make it tough to stick to your exercise regimen. If you want to sparkle with joy this holiday season instead of stressing out about holiday weight gain, here are 11 things you can do." [HuffPost]
BEFORE YOU GO
~ This is what happens when you condense Ernest Hemingway novels into 15-second Instagram films.
~ Princess Diana had better sweater game than all of us, combined.
~ What happens to Glacier National Park if there are no glaciers?
~ A sneak peek at "Jurassic World" was released this weekend.
~ Makeup fans, rejoice: Urban Decay finally has a store.
~ Here's the Frogger knockoff you've been waiting for.
~ Atlantis?
~ And this may be the greatest touchdown catch of all time.
Send tips/quips/quotes/stories/photos/events/scoops to Lauren Weber at lauren.weber@huffingtonpost.com. Follow us on Twitter @LaurenWeberHP. And like what you're reading? Sign up here to get The Morning Email delivered to you.