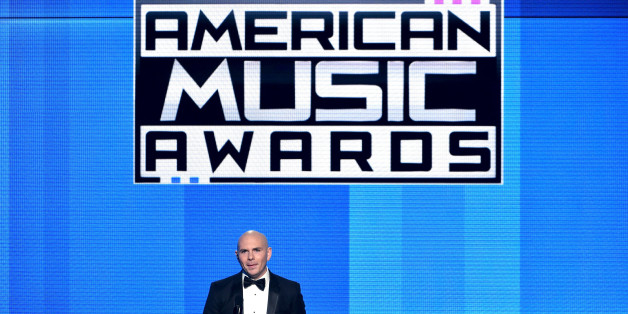 Twitter racism has struck again against Pitbull.
The Miami-born star hosted the American Music Awards for the second year in a row on Sunday night, but many twitter users weren't happy about his intermittent use of Spanish.
Throughout his career Pitbull, 33, has embraced his Latino roots by using Spanish in his music, most notably his catchphrase "Dale!" So it's no surprise that the Cuban-American artist opened the show with a joke about how his use of Spanish has a positive impact on ratings.
"ABC found out last year that when I spoke just three Spanish words, ratings went up 142 percent, so get ready for three hours of just subtitles!" Pitbull said before delving into Spanish momentarily, according to The Hollywood Reporter. "That's another four million viewers!"
But some people were not so keen on the use of Spanish and went us far as to criticize the rapper's English.
If Pitbull could speak English the AMAs would be so much more enjoyable #Amas2014

— Barrett Shepherd (@barrettshepherd) November 24, 2014
Ok, NEW AMA Drinking Game....every time PitBull speaks ENGLISH, take a drink. He speaks Spanish...yeah, we get it. #AMAs

— Rawhide & Velvet (@rawhidevelvet) November 24, 2014
Dozens of similar comments come up if you search "Pitbull English" on Twitter, take a look here. Fortunately it wasn't all hate for Pitbull. Some defended the star while others expressed how much they loved his Spanglish.
ALL OF YOU PEOPLE TELLING PITBULL TO SPEAK ENGLISH: YOU SOUND LIKE RACIST WHITE OLD MEN. I'M ASHAMED OF YOU

— G O D D E S S (@proper_ending) November 24, 2014
Pitbull hosting 😍😛❤️ love his Spanglish 😂👌❤️💙

— jess (@jess_sanchez__) November 24, 2014
Watching the AMAS loving pitbull Spanglish 😘 #AMAS @pitbull dale

— Isvela Morataya (@sweetbella_3) November 24, 2014
The negative comments, however, are nothing new for Latino celebrities. Last year, Pitbull himself was called "Mexican" by several tweeters while hosting the AMAs (Which explains why the star opened with this joke: "You guys already know I'm Cuban, but you know America, not all Latinos are Mexican — maybe we are.")
New York-born salsa star Marc Anthony also received a downpour of racist remarks after performing "God Bless America" at the 2013 MLB All-Star game. And let's not forget the hate 11-year-old Texas native Sebastien De La Cruz received after performing the National Anthem at the 2013 NBA Finals donning a mariachi ensemble.
The good news is that Pitbull seemed rather unfazed (or unaware) of what was being said on Twitter about his Spanish.
Muchas Gracias America @TheAMAs pic.twitter.com/VY8biu5bq9

— Pitbull (@pitbull) November 24, 2014