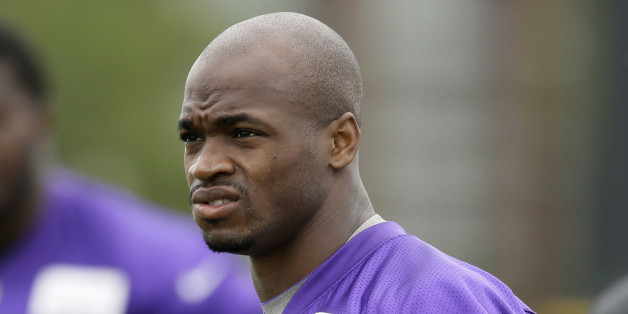 Suspended Minnesota Vikings running back Adrian Peterson was one of many athletes sharing their thoughts on the news from Ferguson, Missouri, on Monday. Unlike the vast majority of them, Peterson managed to add a bit more confusion and controversy to an evening that needed no more of those things.
Shortly after it was announced that a grand jury had decided not to indict police officer Darren Wilson in the fatal shooting of 18-year-old Mike Brown, Peterson compared the decision to his own indictment in a child injury case:
The GRAND JURY DECIDED NOT TO INDICT ME TOO! But that changed a week LATER! MAYBE,BUT NOT LIKELY N THIS CASE #PUTyourTrustNGODnotINtheWORLD!

— Adrian Peterson (@AdrianPeterson) November 25, 2014
Peterson was sidelined after being indicted in September, after causing injury to a 4-year-old son while administering punishment. He subsequently pleaded no contest to one count of misdemeanor reckless assault.
It was unclear if Peterson were attempting to compare his legal case to the happenings in Ferguson or if he we were expressing hope that Wilson could still be indicted at a later date. With his tweet garnering plenty of attention, Peterson seemed to respond to any confusion with another message open to multiple interpretation:
— Adrian Peterson (@AdrianPeterson) November 25, 2014
Before ending his social media session, Peterson finally shared a message that no one could take issue with:
MY HEART GOES OUT TO MIKE BROWN'S FAMILY! MY THOUGHTS & PRAYERS ARE WITH YOU! #PRAYING4PEACE

— Adrian Peterson (@AdrianPeterson) November 25, 2014
BEFORE YOU GO
PHOTO GALLERY
Amazing Sports Photos