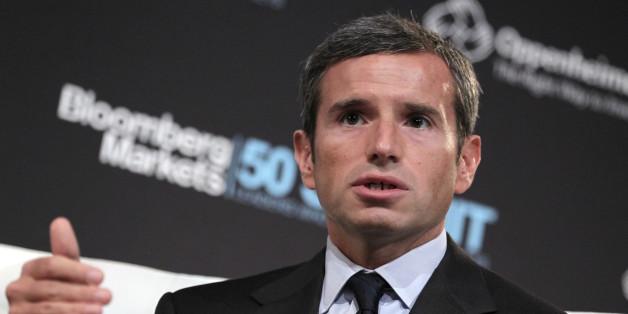 WASHINGTON -- Andrew Ross Sorkin has found the problem: there are too few bankers working in government. He has also found the reason there are so few: the senior senator from Massachusetts, Elizabeth Warren, is too rough on them.
The latest offense of Warren's, Sorkin wrote Monday, is her opposition to the nomination of Antonio Weiss to be under secretary of the Treasury for domestic finance. "Sadly, Ms. Warren's denunciation of Mr. Weiss is a reason many talented people in the private sector are unwilling to take on government roles. They worry that, like Mr. Weiss, they will be attacked by what seems like just another campaign talking point," Sorkin wrote.
The salvo aimed at Warren is part of a campaign to resurrect the nomination of Weiss, which has staggered amid scrutiny of his financial services career at Lazard, a firm that specializes in structured financial transactions, including the politically toxic "corporate inversions." An inversion allows a corporation to swallow a foreign company and move the legal home of its headquarters offshore to avoid U.S. taxes. Lazard itself is headquartered in Bermuda.
Lazard handled the high-profile Burger King inversion, in which it merged with Canadian chain Tim Hortons, something Warren criticized Weiss for. "While it makes a nice sound bite, Ms. Warren is, to put it politely, mistaken," Sorkin wrote, going on to state that the deal was "technically an inversion, [but] it isn't comparable to so many of the cynically constructed deals that were done this year simply to reduce taxes." It did, however, reduce Burger King's tax obligation -- and of course, Lazard oversaw many of the other "cynically constructed deals" Sorkin acknowledges are worse.
"For what it's worth, Mr. Weiss opposes the kind of inversions that the Obama administration sought to end," Sorkin offered.
Politically, that's not worth much. Weiss has been at Lazard for most of his career and has gotten wealthy as a result. There's little evidence he did so under any formal protest. Weiss' apparent objection to the practices of his own firm has not stopped Republicans from slamming the White House.
"This nomination shows the continued hypocrisy of the Obama administration in this area," Sen. Chuck Grassley (R-Iowa), a top member of the Finance Committee, said in a statement. "The president has put forward nominees with offshore accounts, which he lambasted on the campaign trail, and now someone who's been involved in inversion transactions, something he's referred to as unpatriotic."
Warren has said she opposes Weiss' nomination partly because of Lazard's role in inversions, but also because his experience doesn't qualify him for the job, the primary role of which, she argues, is to oversee the implementation of Wall Street reform. Sorkin, channeling the argument of Weiss' Wall Street defenders, said that the responsibility of the job is to oversee Treasury bond sales, and that giving it to the wrong person could drive up borrowing costs.
"Antonio Weiss' supporters are being disingenuous in acting like this is a very complicated and technical job focused on capital markets and that nobody else is smart enough to understand it," said an aide to Warren. "The last person in the role -- Mary Miller -- was Treasury's point person on Dodd-Frank implementation and domestic regulatory issues, and there's just no indication that Weiss has sufficient background to oversee that very important work."
Asked for comment on what, exactly, Weiss' job would entail, a Treasury official pointed HuffPost to the department's website, which describes the post as one that develops policies for the department "in the areas of financial institutions, federal debt finance, financial regulation and capital markets."
The Independent Community Bankers Association is also fighting Weiss over his lack of proper experience. "While Mr. Weiss has impressive credentials as a top Wall Street executive specializing in international mergers and acquisitions, Wall Street is already well represented at Treasury, and the narrow focus of Mr. Weiss's professional experience is a serious concern for ICBA and community banks nationwide," ICBA honcho Camden Fine wrote in a letter to the committee.
Weiss has been waiting for his confirmation hearing in the Senate Finance Committee since he was nominated on Nov. 12. HuffPost reached out to Democrats on the committee to see if they plan to support him. Most responded, but nobody said much.
"Not taking a preliminary position before we have a chance for proper review," said a spokeswoman for Sen. Ron Wyden (D-Ore.), who chairs the committee. "We look forward to evaluating his nomination."
Sens. Ben Cardin (D-Md.), Tom Carper (D-Del.) and Chuck Schumer (D-N.Y.) are all still reviewing Weiss' nomination, according to their offices. An aide to Sen. Michael Bennet (D-Colo.) said, "Based on his experience and qualifications, Senator Bennet believes he deserves a fair hearing."
Wyden has previously said the nomination is unlikely to get a hearing before Republicans take over the chamber in January. Two Democrats on the committee, Sens. Maria Cantwell (Wash.) and Sherrod Brown (Ohio), are strong opponents of inversions, and Weiss opponents view them as likely no votes, meaning Weiss would need significant GOP support to move forward.
Aides to those two senators said they are still mulling the nomination.
"No position yet," said Cantwell spokesman Jared Leopold. "Sen. Cantwell has yet to meet with Mr. Weiss."
"He has not yet said how he'll vote," said Brown spokeswoman Meghan Dubyak. "As a member of both the Senate Finance and Banking Committees, Sen. Brown will be closely reviewing Mr. Weiss' nomination."
For now, Weiss is planning one-on-one meetings with senators to try to win their support, and he's paying a law firm to help guide him through the nomination process. A former administration official who is advising Weiss said it's more common than one might think for a presidential nominee to hire people to help get them confirmed.
"Especially people who know that they're going to come under a lot of scrutiny," said the former official, who requested anonymity to speak freely about the confirmation process. "They get lawyers to help them with that process. It's very common. Sometimes people volunteer to help, other times people are retained."
If Weiss does make it out of committee, he will hit some more Democratic opposition on the Senate floor. Sen. Dick Durbin (D-Ill.), a member of Democratic leadership, has reportedly decided to oppose Weiss. Sen. Bernie Sanders (I-Vt.), who caucuses with the Democrats, has also said he plans to vote against Weiss because of the nominee's deep ties to Wall Street.
"The administration's basic approach here seemed to be, 'Well, he's from Wall Street, so he'll do. We just need to make the role sound complicated,'" the Warren aide said.
The White House is standing by its nominee.
"Antonio Weiss is a highly qualified nominee and we look forward to the Senate's consideration of his nomination and swift confirmation," said White House spokeswoman Jennifer Friedman.
This article was updated after publication with comment from the White House and the job description from the Treasury Department's website.
BEFORE YOU GO
PHOTO GALLERY
Elizabeth Warren