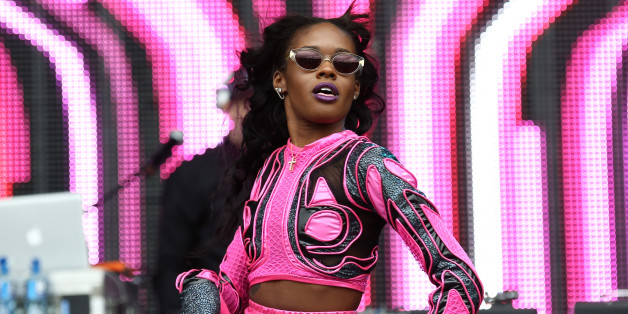 The following article is provided by Rolling Stone.
By SIMON VOZICK-LEVINSON
On the afternoon of November 6th, Azealia Banks hit send on a tweet to her 523,000 followers: "Voila!!!! Here it is…" Nearly three full years after sharp-tongued single "212" made her an overnight star, the 23-year-old Harlem rapper-singer was finally releasing her long-delayed debut album, "Broke With Expensive Taste." "My heart was pounding," she says now. "I was sitting at my dining table with my head-wrap on, in my panties and a T-shirt, with my iPad. It was just happiness and relief and yes, yes."
One week later, Banks is sitting in the opulent downtown New York apartment of her new manager, Jeff Kwatinetz, a longtime industry mover who released the album on his boutique label Prospect Park Records. Monumental works of modern art line the walls, and Banks, drink in hand, seems entirely at ease. "Now we get to party," she says, smiling. "I made all these fucking party songs, and I'm just like, 'Come on, is it time to party yet?'"
Azealia Banks Trips Out in Surreal 'Chasing Time' Video
Banks had a good reason to withhold any advance warning. "I didn't really believe it was going to come out the day that my managers had told me," she says. Like many fans, she felt burned by a long string of pushbacks over the past two years: "I'd get a date from the label, then it wouldn't come out. You just feel stupid after a while."
Back in January 2012, the rapper signed with Interscope and its British sibling Polydor in her first rush of success. But the relationship quickly soured, and by early this year – with her album complete but no sign of a release date – she was publicly begging the label to drop her. "It was really frustrating," she says. "I prayed a lot, a lot, a lot to get off the label. I was like, 'What the fuck am I breaking bread with these people for, when they're all just playing with my career and lying in my face?'"
Rolling Stone's 50 Greatest Hip Hop Songs of All Time
In the years since "212," Banks became known as much for her noisy tiffs with other artists as for her consistently inventive music. Lately, though, she says she's been rethinking things. "You know what?" she says. "When you are a woman, it's just much easier to attract bees with honey than with fucking vinegar. And I was giving off a lot of vinegar. I created a situation where they didn't want to listen to me. It was like, 'This bitch is fucking running her mouth all the time.'"
That said, Banks points out that she did a lot of growing up in the public eye. "There's a window of youth where those things are allowed, and I was definitely taking advantage of it," she says. "I was getting my kicks, like, 'Fuck it – I'm 20, 21. I have 3 million dollars. I got a hit fucking song. I'm getting free vodka in my dressing room. The promoter just bought me some weed. They're giving me free clothes. Fuck everybody.' I was having a good time, and I wouldn't take any of it back."
The 10 Wildest Rap Beefs of All Time
You can hear how the industry drama affected Banks in songs like "Ice Princess," which features some of her hardest rhymes. "I felt like I had been auditioning for two years," she says. "I was mad for no reason, and everything was pissing me off. Fuck everything, fuck everybody. I'm going to rip all your heads off and put you in the fucking meat locker."
Last year, she handed a completed album in to Interscope/Polydor. "I thought they were going to like it," she says. "But when I handed it in, they told me that I didn't have a hit." She went back to the studio and recorded "Chasing Time" – one of the most instantly appealing dance-pop anthems on the album – only to be told that the label preferred another song, the twitchy house groove "Soda," as a single. "I just spent a whole 'nother fuckin' four months in the studio trying to come up with some shit, and you want to go with fuckin' 'Soda'?" Banks says, still incredulous. "I really just lost it. That was the day you saw me on Twitter, like, 'The fuck? I'm tired of talking to these white guys about my shit.' It felt like they were playing some sort of head game. And you know I love conspiracy theories. I was like, 'They're trying to brainwash me! Fuck these guys!'"
Rolling Stone's 45 Best Albums of 2014 So Far
Banks says that Interscope chief Jimmy Iovine had played an instrumental role in convincing her to sign with the label in 2012. In retrospect, she sees his departure from the label as a turning point. "It's really fucked up," she says. "Once he left, that's when it really got bad. I'd see him around and he'd be like, 'What's going on with your new album?' And I'd just be embarrassed to say."
Interscope let Banks out of her contract this July, setting the stage for her to release "Broke With Expensive Taste" through Kwatinetz. The album has won enthusiastic reviews from critics and fans, and Banks is fiercely proud of her work – even if in some ways it represents a past self she's left behind. "I'm just sad for you that it took this long for you to hear it," she says. "This was popping to me when I was 21. A lot of the old songs are a very little girl's way of thinking: 'Yeah, my pussy, mmmm, da da da, I'ma get you with sex.' Now that I'm 23, my lyrical content is a little more mature."
This maturation should be evident on her next project, a sequel to her 2012 "Fantasea" mixtape: "Of course, it's going to be another mermaid-themed thing, but I'm wanting to take it to the next level. I feel like the first one was kind of just like surface. We're in our boats, but now we're going under."
Rolling Stone's Top 25 Songs of 2014 So Far
A lot has changed since Banks caught her first break, but she still loves the song that made her a star – and she says she never thought twice about including it on her album. "When I listen to '212,' I feel like a witch," she says. "I feel like my wings are going to break out of my shirt. It has such a dark feeling, maybe because I wrote it when I was so angry. It's almost like Prodigy's 'Firestarter.'" Banks flashes a wicked grin. "Every time I hear '212,' it riles me up. I'm ready to fight; I'm ready to fuck; I'm ready to run; I'm ready to drink. Let's go."
BEFORE YOU GO
PHOTO GALLERY
Celebrity News & Photos