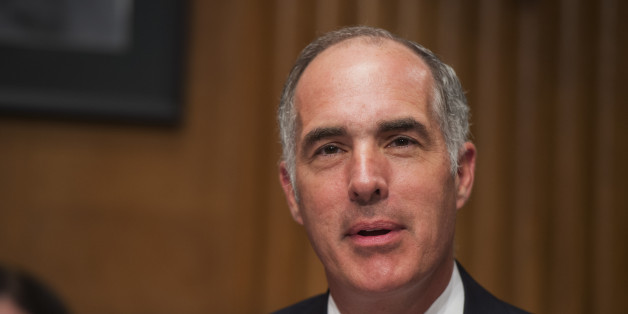 WASHINGTON -- With the majority of international troops set to leave Afghanistan this year and anxiety about that country's future growing within the Obama administration, a Democratic senator said on Sunday that he and other lawmakers are determined to protect one of the United States' key accomplishments in Afghanistan: bolstering the rights of women.
Sen. Bob Casey (D-Pa.), the former chair of the Senate Foreign Relations Subcommittee on Near Eastern and South and Central Asian Affairs and a member of the Senate's National Security Working Group, said that sustaining progress on promoting gender equality in Afghanistan was "consistent with both American values and national security interests."
"Many members of the U.S. Congress -- Democrat, Republican, and Independent -- stand with you and will remain steadfast to ensure the recent gains for Afghan women and girls are a foundation on which we can build," Casey said in remarks at a symposium in Oslo sponsored by Norway, the U.S. and Afghanistan. "To allow these gains to be reversed would dishonor the sacrifice of the American and coalition forces who have served in Afghanistan and would betray the Afghan people, many of whom have given their lives to fight back against extremism."
The senator added that he and Sen. Kelly Ayotte (R-N.H.) had worked to insert language into the 2015 National Defense Authorization Act to ensure continued U.S. support for women's inclusion in the Afghan army and police. Casey previously collaborated with Ayotte to include such language in the 2014 defense authorization bill as well, and worked with former Sen. Kay Bailey Hutchison (R-Texas) to do the same for the 2013 bill.
In May, Casey also pressed the State Department to expand its outreach to survivors of domestic violence in Afghanistan by working with Afghan policewomen and female legal advisors. According to a State Department response shared with The Huffington Post, the department agreed to grant Casey's request.
Casey's comments on the U.S. commitment to Afghan women come ahead of a major conference about Afghanistan's future, to be held in London on Dec. 4.
There, Afghanistan's new president, Ashraf Ghani, is expected to make the case for international donors to continue to assist his financially strapped government even after the Western presence in his country diminishes. Afghanistan already has trouble paying civil servant salaries even at current levels of U.S. assistance -- and analysts say that donor fatigue will only rise.
Women's rights advocates worry that Ghani may sacrifice gender equity in his determination to stabilize his country. The British charity Oxfam noted in a recent report that Afghan women have been repeatedly excluded from peace talks. Ghani has said he seeks to engage in talks with the Taliban, the extreme Islamist group that ruled Afghanistan before the U.S. invasion in 2001. During the Taliban's reign, women could neither attend school nor hold jobs, and had to don a full-body veil, or burka, to appear in public.
In his comments at the Oslo symposium, Casey offered examples of the roles women have come to play in Afghan society in recent years, talking about women who have helped run the country's elections and girls who have returned to school even after facing acid attacks. He also praised Ghani's wife, Rula, who has spoken out about the problems facing women in Afghanistan, for her "vocal activism" on gender issues.
The Special Inspector General for Afghanistan Reconstruction, a watchdog agency established by Congress that monitors U.S. efforts in Afghanistan, said in an October report that despite some success, the situation in the country remains precarious.
The White House made clear this past weekend just how worried it is about the future of Afghanistan: Administration officials revealed to The New York Times that President Barack Obama had secretly decided to expand the U.S. military's combat role in Afghanistan in 2015. One of the reasons for Obama's decision, officials told The Times, was a concern that the Afghan security forces might prove to be weaker than expected, as the U.S.-trained Iraqi army did when confronted by the Islamic State militant group over the summer.
At the London conference, Ghani is expected to discuss a number of issues, including a broader commitment to women's rights, a more detailed plan for containing the Taliban and strategies for tackling corruption and deep-rooted political nepotism, according to The Washington Post.
BEFORE YOU GO
PHOTO GALLERY
Afghanistan War, By The Numbers